I should write things here. I used to write things here all the time. I stopped to write a book, and haven't written that yet either. Sorry about that.
Apropos of what I am currently doing: Potatoes!
Because I am a human and am sane, I like mashed potatoes. I didn't make mash very often, though, because I am also lazy, and all the peeling got me down.
Because I did not wish to use a drill, a brush and a bucket, I bought one of these contraptions...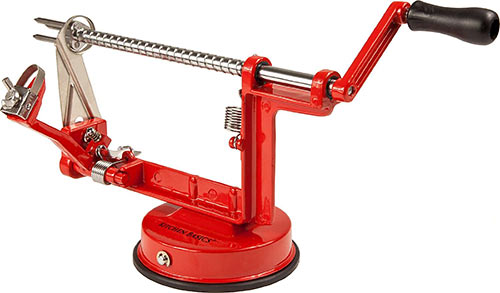 ...which actually works pretty well for peeling vegetables in bulk. (It can also be used to make curly fries, and the long spirals of peel it creates when peeling potatoes make surprisingly good biodegradable cat toys. The crank-peeler I have has a suction cup that holds it onto the kitchen bench well enough; there are also versions with a clamp.)
I also bought a potato "ricer", like this one...
...which works like a gargantuan garlic crusher, and turns any chunk of cooked potato (or other vegetable) small enough to fit into it into instant extruded mash, with one squish of the handle. (There are many other models
, some quite large. I don't know if the suspiciously cheap metal eBay ones are any good.)
But this was all still too much of a production. The ricer's a bit annoying to clean (one of the deadly flaws of many kitchen gadgets), and you can't effectively mix additives (butter, egg, garlic, whatever) with the spud in the ricer. So you end up having to mash "manually" anyway, to mix the additives in.
But now, in what I think we can agree is one of the greatest examples of laziness improving the human condition ever witnessed, and which I'm sure we can also agree is a brand new idea that could have come from nowhere but my own genius, I have developed a technique which solves all of your pesky potato problems. (You won't believe this one weird trick! Chefs hate me!)
What you do is, you don't peel the potatoes.
Buy washed potatoes so you don't have to wash them either. Cut them into similar-sized lumps. Lumps with skin on will, I think, cook a bit slower on the skin side than lumps without. Adjust lump size and shape accordingly.
Remove any really egregious eyes or gashes or other spudular injuries. Don't worry about this too much, though. You're going to be pulverising these things; little imperfections will vanish.
Continue to dress and cut spuds and dump them into your large pot until you think a suitable mountain of spud has been achieved. Put pot in sink, run it full of water, slosh some out again, let it flow through a bit, to wash the lumps clean of whatever stuff still clings to supermarket washed potatoes.
(My house has one of those "instant" hot water systems where the water flows through a gas heater rather than sitting in a big tank, so our hot water doesn't taste funny. I therefore do this washing stage with hot water, to make the cooking a bit faster.)
Transfer spuds to stove. Cook until when you poke a chunk with a knife or skewer there is no longer any perceptible crunch.
Drain spuds and mash, with ordinary or fancy handheld masher.
To prevent your masher from getting clogged with skin, pull a knife through the spud-chunks to slice the skin-bits up. (My potato ricer is completely useless on spuds with skin. The skin blocks its holes immediately, and then what it manages to mash squirts out vertically or seeps around the blockage in a quite faithful simulation of the phenomenon of "paradoxical diarrhoea". Don't all thank me at once for this information.)
Add butter and egg and whatever else you like. To make mixing butter with spud easier, melt the butter in the microwave. (Cover the butter if you do this; it tends to explosively splatter before all of it is melted.) If you've somehow managed to make the spud too dry - by, for instance, not adding all the butter that exists in the world - add some milk too. If the spud is too soggy because you've by some terrible wicked miracle managed to add too much butter, add egg; the egg cooks in the hot potato and stiffens the mix.
And you're finished. There's surprisingly little difference between mash with and without skin; when it's thoroughly mashed the skin can be quite hard to see. And leaving the skin in lets you pretend you're being virtuous and getting more vitamins and stuff.
I invite suggestions of ways to streamline my mashed-potato workflow even further!