There's a popular perception among foreigners that in Australia every shoe, beach and toilet seat is crammed full of deadly poisonous creepy-crawlies.
Well, on the one hand, yes, we've got a lot of poisonous things here. And crocodiles, and stuff.
But the most deadly animal in Australia, in deaths per year, is apparently the European honeybee. People get bitten by nasty spiders and snakes all the time, but unless it happens while they're out in some trackless wasteland with no access to antivenom (in which case they might also not make it into the official statistics), they all survive. Steve Irwin had to go to some really extreme lengths to find something that'd actually kill him.
So there's that.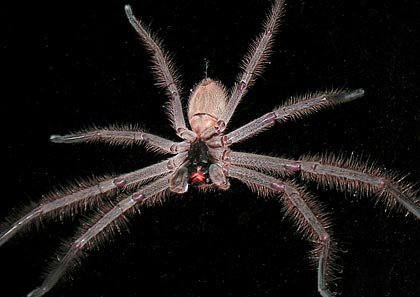 But then again, there's this.
Huntsman spiders are found, in one variety or another, all over the world. They're common in suburban Australia, though. Australian houses are seldom tightly sealed and double glazed, and huntsman spiders are wide and flat, so they can and do sneak indoors.
The above example, a mere four inches or so across (this strain grows to about six inches across), was on the outside of the kitchen window, so you get to see the less common "ventral aspect". Or, to put it another way, his underside.
I think it's a him. Huntsman males and females are similar in size (many spider species have tiny males and big females), but huntsman males have a smaller abdomen.
Huntsman spiders are physically harmless - you can get bitten by one of them if you really try, but if you then go to the hospital they will point and laugh at you. But they're psychologically traumatising for many people. Including me, though I've managed to become slightly saner about them over the years.
Huntsman spiders, you see, really are hunters. They don't hang around in a web waiting for food to come to them; they sit still most of the time, but when prey presents itself they go after it, at speed. They can use this same turn of speed to avoid capture, and they are perfectly capable of locomoting at a full gallop sideways.
It's the sideways-ness that bothers me most.
But that's probably only because I don't often spend time looking at the ventral aspect.
Madre de dios.
Given the commonness of Australian huntsmen, it's surprising that there don't seem to be any on the otherwise excellent What's That Bug.
What's That Bug has also, by the way, convinced me that North Americans can just shut up about scary insect monsters in Australian houses, given the commonness of house centipedes over there. Not to mention things that are actually called "toe biters", and whose bites are (a) much more common and (b) far more painful than huntsman bites or, apparently, the bite of any other insect - though they admittedly won't actually kill you.
I suppose you'll do that yourself, after half an hour or so.