In Supreme Commander, some units can fire when they're hanging from some transport planes.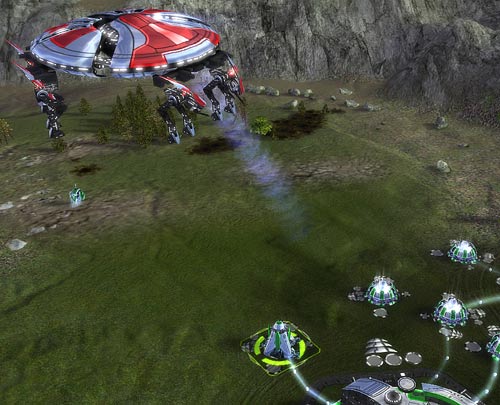 It's all a bit inconsistent, but it's explained in this post on the Supreme Commander Talk blog (now with a nascent wiki!).
I took these pics from the replay mentioned therein...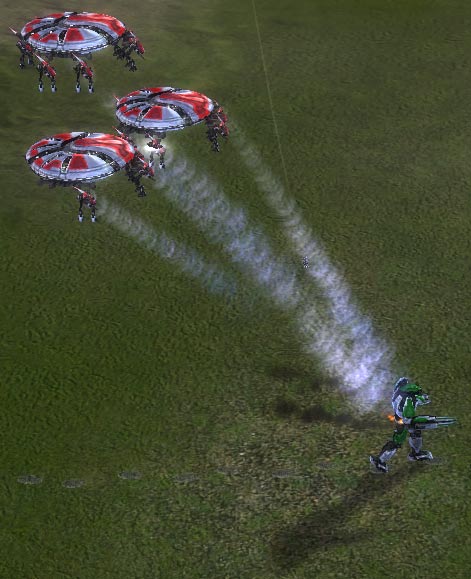 ...which concludes with a particularly humiliating end for the green Commander.
One thing this strategy, and transport aircraft in general, show up is the artificial imposition of scissors-paper-stone rules in SupCom, compared with Total Annihilation.
Scissors-paper-stone is the standard arrangement for real time strategy games. With few exceptions, units have their own single Type (land, air or sea, usually), and their weapons have one Type that they can target. The scissors-paper-stone chart is more complex than that - there are lots of intermeshed X beats Y interactions, with intransitivity all over the place - but the basic unit and weapon classes form the overall framework.
This makes perfect sense if the units in question are dudes with swords, who cannot reasonably be expected to attack dragons flying by 500 feet overhead.
It makes less sense for dudes with assault rifles, though. If those guys have got nothing better to do, they might well be able to score some hits on a passing helicopter. Especially if they're RTS units who never run out of ammunition.
In TA, pretty much anything would have a go at shooting pretty much anything else. You could use fighter planes to attack ground targets. Tanks would try to shoot passing planes. Neither were any good at it, but at least you couldn't direct one piddly bomber to attack 50 tanks and feel confident that it would never, ever get hit by a lucky shot from one of them. And the mainstay of base defense in TA was the missile tower, which fired on both ground and air.
SupCom has dispensed with this. It has some units that can take care of themselves against any threat (destroyers, for instance), but that's because they have a specific weapon for each function, not because they can just elevate their single standard gun and use it to take pot shots at air threats. There aren't any all-purpose towers any more, either.
I'm not as annoyed about this as I expected to be, because the anything-versus-anything stuff in TA was seldom actually very useful. Quite the opposite, actually - it caused units to be distracted from their real mission by enemies they almost certainly couldn't kill. No doubt this is why the developers took the feature out for SupCom.
But when land units are hanging from a transport aircraft way up in the air, then, and only then, land units down on the ground will suddenly discover that they can, in fact, shoot up in the air, and will do so in an attempt to hit the airborne "land" units which they're allowed, by the game code, to target.
(Late edit: I think the best example of scissors-paper-stone code working in unintended ways has to be jet fighters shooting down submarines.)