Every now and then someone who's read the stuff I wrote about Swiss Army knives writes to make sure I know about the ridiculous Victorinox super-knives, the SwissChamp XLT (which is just about still usable) and SwissChamp XXLT (which is really just a showpiece, though every now and then you find one on sale for a surprisingly reasonable price because some store accidentally got ten in, thinking they were products a human hand could actually hold).
Wenger, the now-wholly-owned-by-Victorinox second manufacturer of "genuine" Swiss Army knives, would appear to now have one-upped Victorinox in the monster-knife stakes, with...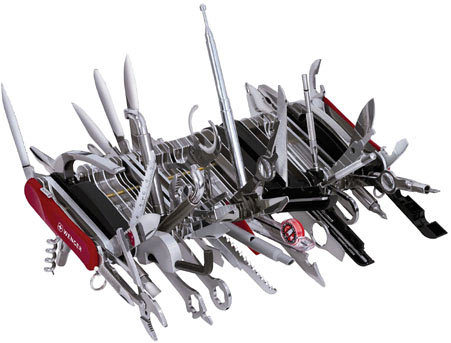 ...the Giant.
It's only a thousand dollars if you buy online!
(I'm pretty sure that one of those big plastic shop-window Swiss Army knives with the motorised blades that slowly go in and out will cost you rather less than the Giant, and be just as useful.)