I just got a press release about an exciting new technology called "SmileCheck". It's supposed to give a digital camera the ability to look for "facial features associated with smiles" in the live viewfinder view. So, if you've got your camera in SmileCheck Mode, you press the button when everyone's in frame, but the shutter will only actually click when it reckons everybody in the frame is smiling.
This doesn't sound like the most useful camera gimmick ever, but it's more useful than "sepia mode". If it works.
The PR company helpfully included "before" and "after" pictures, to show what a sterling job SmileCheck could do.
Here's the kind of picture that SmileCheck will, allegedly, prevent you from taking:
And here's what it'll let you take instead: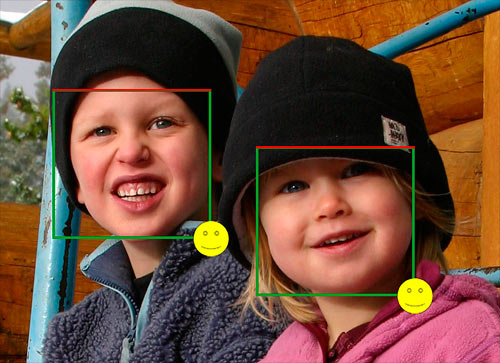 The more I think about this PR company's choice of images, the more my facial expression comes to resemble that of the kid on the left.
UPDATE: They've now produced a second press release, showing off the same technology but this time coupled with the camera's self-timer, and calling it "FaceTime". So you activate that mode on your camera, and it waits the usual several seconds (so you can get yourself into the frame) and then starts looking for smiles, and takes the picture when it thinks it sees them. The demo pictures are less hilarious this time.