LED lamps for standard low-power automotive sockets - things like interior lights, number-plate illuminators and brake lights - are now widely available and dirt cheap.
So I bought one, to see if it works any better than the standard interior light in my car.
There was nothing wrong with the standard interior light, but like a lot of low-power automotive bulbs, it's offensively inefficient.
The bulbs used in cars for things like interior lighting and instrument panel illumination have as their two chief design goals cheapness and durability. Both of these goals push manufacturers towards very low-efficiency devices. And the standard "dome" light in the middle of the ceiling of most cars generally doesn't even have much of a reflector behind its bulb, so something approaching half of the light just goes into warming up the light fitting.
So the dome light in my car looked like a fine candidate for LED improvement to me. Particularly now that one lamp will only cost you $AU8.98 delivered from Hong Kong.
(I got mine from this eBay seller.)
My car's interior light uses the small 31mm size of "festoon" bulb, the kind that look like a glass fuse but with points on the metal caps on each end.
The 31mm form factor doesn't give a lot of room for modern super-LEDs. You can now get 31mm lamps with a single allegedly-one-watt white LED in them...
...or you can go for the type I got, with no fewer than six surface-mount sub-1-watt super-LEDs.
There are also replacement bulbs that use a cluster of standard 5mm LEDs. They may be OK for things like instrument panel lighting, but you shouldn't expect as much light as you'll get from a single 1W LED unless there are at least a dozen 5mm LEDs in there. Even then, it's doubtful.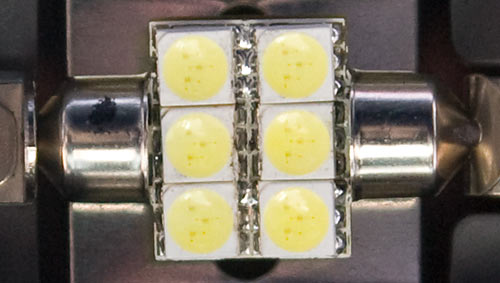 If you don't see a lot of yellow phosphor looking back at you, you're probably not looking at a very bright lamp.
I gave the new bulb a whirl on my bench power supply to see how much power it consumed. Then I tried the same thing with the (rather old) stock bulb.
The LED lamp drew only about 55 milliamps (mA) at twelve volts, for a power rating of only about 0.66 watts. Raising the supply voltage to 13.8V - which is what you'll get when the car's running and the alternator's turning - raised the current draw to about 105mA, for 1.45 watts.
The stock bulb has a nominal ten watt rating. From 12V it drew around 0.725A - that's 8.7W. From 13.8V it drew only a little more, about 0.785A (this is because the resistance of light bulb filaments rises with their temperature), giving 10.83 watts.
I expected the LED lamp to deliver much more light per watt than the incandescent bulb, and it also gets a big effectiveness boost from only throwing light out one side, wasting none of it by shooting it uselessly into the dome light fitting. But this was still a pretty huge power difference. At 13.8V, the old bulb draws 7.5 times as much power as the LED lamp; at 12V it draws more than thirteen times as much.
It was pretty easy to install the new lamp, although it did turn out to be a bit longer than it was supposed to be, making it a bit of a tight fit and also making it impossible to install it perfectly level. It ended up tilted a bit toward the left seat, though not enough to make a huge difference to the illumination on the two sides.
To cancel out any side bias, I tested the brightness of the two lamps with my somewhat accurate light meter sitting at the base of the gearshift (and with the standard plastic diffuser in place, too).
The light meter is calibrated in lux, a unit that's weighted to match human brightness perception. This gives the LED lamp another advantage, because the long-life low-temperature incandescent bulb gives very yellow light, while the LED lamp gives the characteristic blue-white of "white" LEDs. The blue-white has more energy around the green frequencies where human vision works best, so a given raw energy level of yellow-white light will appear dimmer, and read lower on a luxmeter, than the same energy level of blue-white.
Anyway, the stock bulb gave a reading of about six lux with the engine off (12V), and about nine lux with the engine running. Not a bad illumination level, given that it was being measured quite a bit lower than the place where you'd typically be, say, holding a map you were trying to read.
Swapping in the LED lamp gave... exactly the same readings!
My light meter isn't terribly accurate down in the single-digit lux, so I won't swear to you that there wasn't actually a bit of a difference one way or the other. But there clearly isn't a huge difference. And the new lamp, subjectively, lit up the cabin of the car just fine. Despite drawing around a tenth as much power.
This sort of thing can make a big difference in certain circumstances. If, for instance, you have a typical small car battery with about 25 amp-hour capacity before it starts getting very unhappy, a ten-watt interior light will drain it in thirty hours. Swap to a one-watt LED lamp and you'll probably still be able to start the car even if you leave the light on for ten days.
This doesn't matter much for normal automotive interior lighting, but if you've got a caravan or motor home or something that has a lot of friendly yellow incandescent bulbs in it, it could be a very good idea to swap them for the new cheap LEDs.