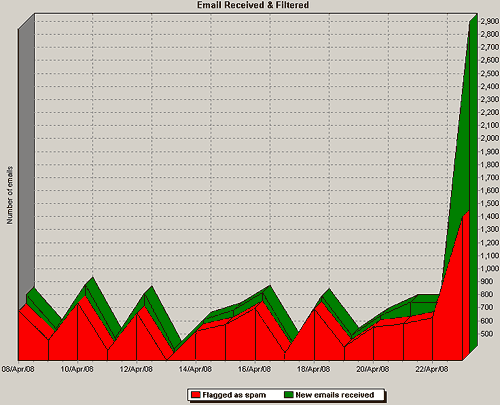 A spammer has just used my e-mail address as the return address for a good-sized run of spam. Gee, it's fun when that happens.
In case this is all new to you: There is nothing verified about the From: or Reply-To: lines in an e-mail. A sender can put whatever they like in there. Spammers do this as a matter of course, generally picking some address out of the same list to which they're sending the spam, or picking something relevant-sounding like admin@viagra.com or bigmoney@amazingsupercasino.biz.
It seems, at least, that Internet users are now savvy enough that they don't send outraged messages to these bogus reply addresses any more. Or maybe the people who're prone to do that are all now just behind good enough spam filters that they never get to see that "I" sent them 300 porn spams today. So that's a relief.
But I've still ended up with the thick end of three thousand "backscatter" bounce messages from moronic mail servers that don't check to see whether, perchance, incoming obvious spam might just possibly not have a genuine reply address. Nope, they (a) accept the mail, even though they could tell instantly that it's for an address that doesn't exist, and (b) then cheerfully send an error e-mail. And they send that error e-mail to the Reply-To address, because how could the Reply-To for "Hot replica watches from 2008" or "ivagra ciails" possibly not be real!?
What mail servers should do in this situation is check the recipient before they accept the message, and reject message delivery if the recipient does not exist. Then an error gets sent directly to the sending mail server.
Backscatter will still exist even if every mail server got this right, but it'd be restricted to far rarer things like "I'm out of the office" messages, and other kinds of autoresponder systems.
The backscatter bounce flow seems to have slacked off a bit, now; it's down to about five bounces a minute. And it's not terribly onerous for me to MailWash all of those bounces out of existence. Actually filtering backscatter bounces is a bit tricky - in essence, you probably do want to receive bounces from messages you actually sent, and backscatter bounces look very much the same - but manually deleting them with some sort of header-preview tool like MailWasher is no big deal.
Mixed in among the thousands of bounces, though, were a few other things, one of which I'd never seen before.
For every few hundred nonexistent-address errors, you see, there are a few "please confirm your subscription" messages. Those are from mailing list servers that treat anything sent to subscribe@dumblist.example.org as a subscribe request, even if it's an ad for porn or watches or pharmaceuticals.
This does no real harm - it's just another darn message in among the bounces - unless the list is one of the old-style ones that don't require a subscribe confirmation.
Here's a new one, though. This spammer sucessfully UNSUBSCRIBED me from a mailing list!
I'm a subscriber to Jakob Nielsen's Alertbox list, which is administered by Sparklist. It's normal for mailing list unsubscribe requests to not require a confirmation, and clearly Sparklist don't spam-filter unsubscribe messages. So when the spammer sent some piece of crap or other to leave-alertbox@laser.sparklist.com, "from" dan@dansdata.com, it cheerfully unsubscribed me.
My actual Alertbox e-mails have a different unsubscribe address, leave-alertbox-[seven-digit-number]Y@laser.sparklist.com, which probably isn't in any spammer's database, and would be unlikely to be generated randomly either (yes, spammers send spam to aaaa@example.org, aaab@example.org, aaac@example.org...). But I just tried unsubscribing by e-mailing plain old leave-alertbox@laser.sparklist.com, and it worked just fine. So I reckon that's the button the spammer pressed.
I just subscribed to Alertbox again, so there's no real harm done there, either. But it was a pure fluke that I noticed the lone "Alertbox unsubscribe confirmation" message in the middle of the thousands of bounces and other messages. It didn't even come from the same address as the subscribe confirmation messages, so whitelisting that address wouldn't have helped me. If this had been some mailing list that was essential for my job, or something, I could have missed a few issues before I noticed.
Thanks again, spammers! You're doing a heck of a job!