Behold, the "Virtual Wall"!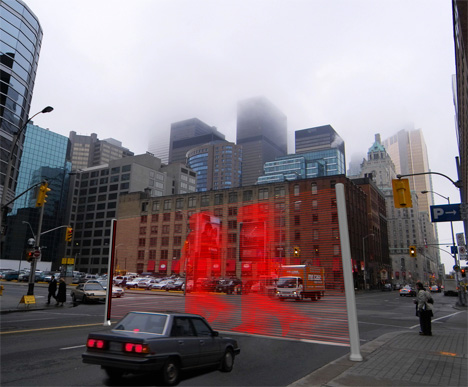 It's a "barrier made up of plasma laser beams depicting pedestrians" to alert drivers to people crossing, more effectively than could a normal red light.
A magnificent idea, with only two minor drawbacks.
One, there's no way to make lasers do this, and two, there's no way to make lasers do this. I know that technically speaking that's only one drawback, but I thought it was such a big one, it was worth mentioning twice.
(OK, perhaps a "plasma laser" can do it. Who knows, since they don't exist. I bet a phased array of Star Wars blaster emitters would make a pretty good signage device too!)
A few of the commenters on the Yanko Design page have pointed out that you can't make a laser beam that's, I don't know, fatter in the middle, or something, unless you put optics out there in the display area. You'd either have to do that, or otherwise cause the lasers to scatter more light from one part of their beams than from another. This can't be done unless you blow something like smoke into the beam, and somehow magically make it hang there in the air in the shape of the image you want to create.
There are "displays" that do something rather like this with drops of water...
...metered out by solenoids in a sort of a giant skinny inkjet print head. But you can't do that with lasers unless you're happy with your images zooming across the display at the speed of light, which is generally a little too quick for motorists to notice.
I know that most designers are not blithering idiots, but there seems to be an endless supply of things like this, and that idiotic Gravia lamp, trying to persuade me otherwise.
Surely the absolute bedrock of design has to be making sure that what you're designing can actually exist in the real world. If you can actually get good marks in a design course by pulling the basics of your product out of your fundament and then concentrating on the packaging and presentation, aren't you really just doing marketing?