The 85-watt compact fluorescent lamp I wrote about almost two years ago now still works fine. (Though the eBay seller I bought it from has vanished.)
But that lamp now looks a little... weedy.
This monster has a power rating - the actual power it draws, not the "equivalent" power that an incandesent bulb would have to draw to output the same amount of light - of two hundred and fifty watts.
(I found it in the eBay store of "DigiMate3". As sometimes happens on eBay, this store has a twin with all the same products, called CNW International.)
This lamp's output, in incandescent-equivalent terms, has to be something like 1200 watts. Since it's got the simple out-and-back design that doesn't get in its own way as much as a more compact (but in this case baroquely complex) spiral, I wouldn't be surprised if it actually shines as bright as three 500-watt halogen floodlights.
My 85W lamp lights the room it's in to about 205 lux, measuring on top of the spare bed that I use for most of my product photography. That's about half the brightness of outdoor light at sunrise or sunset on a clear day. This thing'd probably manage an easy 600 lux all by itself.
A few of these lamps would probably make fantastic workroom or warehouse lights. You could probably even power them from a normal domestic lighting circuit - many normal light sockets can deliver 250 watts safely, especially if they don't also have to cope with a 250-watt incandescent filament blasting away six inches away from the socket's plastic parts.
(You couldn't directly install these lamps in a normal light-bulb socket, because they use the big E39/E40 "Mogul" version of the Edison-screw fitting, rather than the bayonet fitting that's normal here in Australia or the "medium" Edison screw that most US light bulbs use. They're also obviously too heavy to dangle from a poor innocent domestic bulb socket, even if they'd otherwise fit; you can get simple screw-in medium-to-mogul adapters, but they don't magically make the bulb weightless. It wouldn't be a big deal to whip up a home-made luminaire to fit these lamps, though. You might even not electrocute yourself.)
You could even use these things as photo lights, though their colour rendering probably isn't all that great. The seller claims a Colour Rendering Index of 80, which ain't that bad, but might not be accurate.
I think most people who buy this things intend to use them as hydroponic grow-lights, though. I've written about this area of human endeavour before.
(Just think how much electricity would be saved if marijuana were legal, so people could grow it in their garden, instead of in their garage...)
Here's a hydroponic company being a bit sniffy about these "unbranded" lamps, which do indeed seem to be inferior to their similar...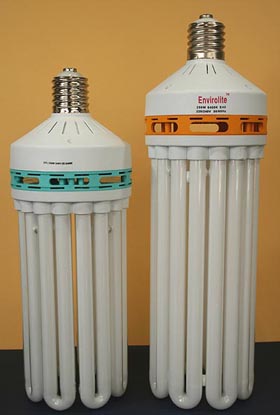 ...but even bigger product.
If you've found a CFL that's bigger still, do tell us in the comments.
UPDATE: It took some doing, but I managed to come up with something much more ridiculous than this bulb.