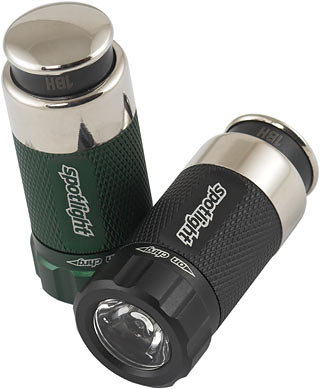 I'm sure you usually only visit DealExtreme (previously) for their delightfully wide range of prophylactics, but they now also stock the "Spotlight" cigarette-lighter-charged flashlight that I reviewed a little while ago.
It's yours for $US18.80 including delivery to anywhere, PayPal only. The standard price is $US14.95 ex delivery, so unless you've got a bricks-and-mortar shop nearby that stocks it, the DX option is very likely to be cheaper, for people outside the USA at least.
(The two vendors I originally mentioned in my review are JTSpotlight and 12VSpotlight.)
If you're outside the USA you'll probably get the light about as fast from DealExtreme as you would from anybody else, too. DealExtreme usually take a while to deliver stuff (I've not yet received my tiny plastic Buddha, for instance), but that's because they're drop-shipping, just telling the Chinese factory that makes whatever you've bought to send it to you. With perhaps some minimal amount of cobbling-together of orders on the actual DealExtreme premises as well, just to add a few more days to proceedings.
Drop-shipping means you get to wait however long each factory takes to get stuff packed and posted. But DX is presumably selling Spotlights direct from the manufacturer, too, and I think the Spotlight makers don't also make a wide range of three-dollar Chinese oddities, so they ought to respond faster.
(If you order a Spotlight and it arrives seven months later, packaged between two Zebu cowpats that're held together with a strand of barbed wire, I accept no responsibility. But do feel free to vent in the comments.)
UPDATE: As reader Changes points out in the comments, DX now also have a brandless "OEM" version of the Spotlight, for a princely $US8.50 delivered.