You know when you read a review of a game that says that one part of the game, say the battles between spaceships, looks great and is tons of fun, but the rest of the game is kind of boring?
Gratuitous Space Battles is that part of that game, without anything else.
(And before I say anything else, note that there's a free demo.)
You pick a fighter, frigate or cruiser hull for each of your vessels...
...you kit them out with weapons and shields and engines and so on, you deploy an armada of ships of different sorts (or all of the same sort, if you like), and then you give them all orders. Concentrate all fire, prefer to shoot enemies that're already wounded, shoot this kind of ship over that kind, protect this ship of ours, protect any ship of ours that's damaged, stop at this range from the enemy and plink with your long-range missiles rather than charging into beam range, et cetera et cetera.
And then you click the "Fight" button, and sit back and watch.
For the actual battle - which is fought on a 2D battlefield, though ships can go over and under each other - you're a pure spectator. GSB is like a tower defense game, in that regard. (Many tower-defense games let you build new towers during a battle, though; GSB does not.)
You can speed up and slow down the battle, and you can zoom in and out. From a distance, the action looks like this: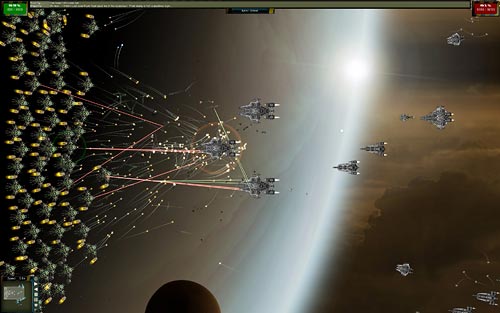 (In this battle, I'm employing the Unsporting Crowd of Torpedo Frigates strategy. I'm also playing at full resolution on my huge monitor, so the full-sized screenshot is 2560 by 1600 pixels and rather a lot of kilobytes.)
Zoom in, and you can see...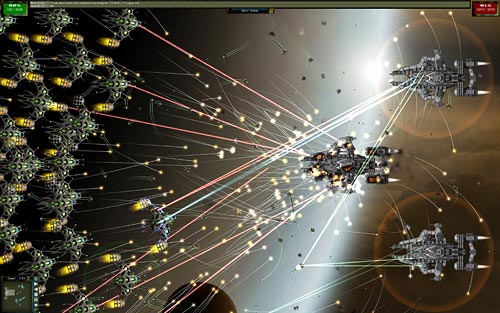 ...each individual weapon shot, repair drones patching flaming holes in hulls, and fighters weaving around the capital ships. (Full-sized screenshot here.)
When you win a battle you earn "honor" with which to unlock new hulls, equipment and the three whole alien races besides the one you start with, the Federation. (The big Federation ships, rather delightfully, all look like a hybrid of a Starfleet vessel and a Battlestar.)
It's all a lot of fun, and should become even more fun as the game expands. Cliff Harris, the indie developer of GSB and a few other games, is actively patching bugs and adding stuff, and GSB is also very moddable. Fans have already, according to the ancient tradition of the first few mods for any game, created a few rough-and-ready super-battleships by just adding more module mounting points to existing hulls. Some proper high-quality mods with all-new graphics, like unto the Babylon Project mod for Weird Worlds, should be arriving soon.
So try the free demo and see what you think. The full game takes into account what you've done in the demo, by the way, so you won't have to play the tutorial level again if you don't want to, and get to keep whatever honor you earned.
(GSB is Windows-only at this point, but because it's not a very demanding game it generally works fine on other OSes if you play it in an emulator.)
Gratuitous Space Battles is $US22.99 from the developer, or only $US20.69 on Steam.
---
Note that there's a graphical glitch in GSB that affects people who're using an unusually high horizontal screen resolution (so, one giant monitor, or a row of smaller ones). It...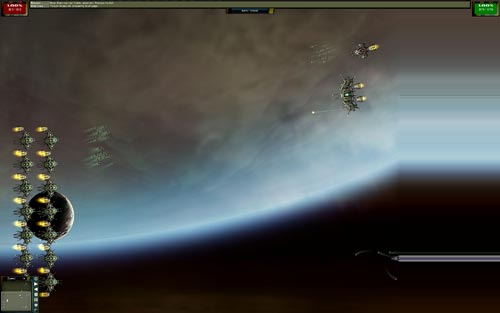 ...turns a column of screen to the right into stripey repeats of the last correctly-drawn column of pixels.
I think this was meant to be fixed in the recent patch, but it doesn't seem to have been. No problem, though; just go to the options and disable "Gratuitous Shaders", and with very little eye-candy reduction, the whole screen will draw properly again.