Just as not everything that appears on Photoshop Disasters is an actual Photoshop disaster, and not everything on The Daily WTF is uncontroversially WTF-y, so too not everything on There, I Fixed It is actually a half-assed repair job.
These wheelchairs, for instance, may look gimcrack, but (as commenters quickly pointed out) they're actually real, functional and sorely-needed "appropriate technology".
(If it's stupid but it works, it isn't stupid.)
I think quite a lot of the other There, I Fixed It posts have a similar charm, especially to people like me who actively prefer shabby things to shiny ones. (I am not being sarcastic when I say cat-scratches "improve" furniture.) I like things that look totally ramshackle, or even obviously broken, but actually work, or can pretty easily be made to work.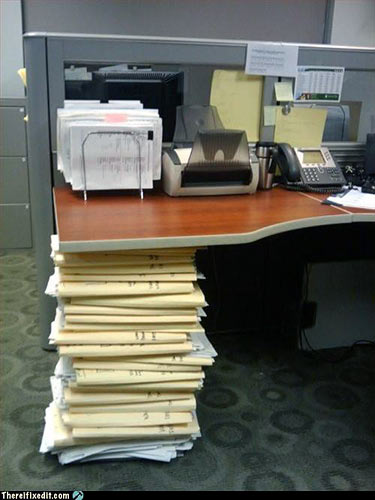 This desk support, for instance, rather appeals to me.
You could make it properly structurally sound, too. Just gather enough unimportant documents - not, I think you'll find, a difficult task for many people - and pile them up one sheet at a time, putting a circle of white glue on each sheet. Then put the desk or something back on top of the pile to clamp it while the glue dries.
You could make a desk that stood on four of these things, a coffee table on four short ones, a single one as a display plinth for your Office Space collectibles...
You could even make the stack lightweight, if you did something like core out the middle inside the glue-rings and replace it with a length of large-diameter PVC pipe. And then you could, of course, hide booze in it!
I invite readers to nominate their own examples of constructions and contraptions in this sort of improbable-yet-functional, broken-yet-working category.
(With pictures, if possible! Commenters can't use image tags, but if you just put the URL of the image, Flickr page or whatever in your comment I'll picturify it, provided it doesn't make my Civil Defense Lemonparty Survey Meter beep too loudly.)