A reader writes:
This seemed right up your alley. I saw this on Gizmodo this morning:

I initially dismissed it as totally fake. After all, it's just a string of pin adapters, and you can't get a flash drive to talk to a parallel port.

But then I thought some more. What if one were to replace the crystal in the USB drive with one of a much lower frequency, and then write a virtual device driver which implements USB using the parallel port pins? This would, of course, make the USB device useless on a regular USB interface, but it seems like it would be possible. And there's also the question of "why on earth would you want to?", but if you're the type to ask that question, you probably wouldn't have seen it in the first place.

Do you have any insight as to why such an approach would or would not work technically?

Ammon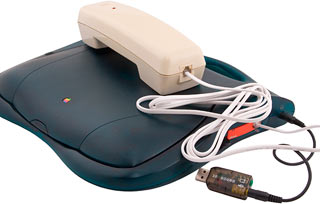 (Anyone can do it!)
This reminds me of the hardware dongle, one of the many wonderful creations of the copy-control industry. Nowadays I think copy-protection dongles are all USB, but there was a time when some lucky users had to daisy-chain multiple parallel-port doodads in order to run multiple protected apps at once.
As you say, there'd surely be some way to connect a USB thumb drive to a parallel port, but not with standard computer-store products. (No, you can't just take a USB-to-parallel adapter and turn it around.)
I'm sure this sort of trick has actually been done many times, to connect modern storage to legacy systems. I don't think it'd be a huge job for one of the modern easy-to-program microcontrollers (Arduino, etc). If you've got some 35-year-old industrial computer that still works fine except its moving-parts storage keeps crapping out when the mining dust or machine-shop shavings get into it, hacking up some way to replace its ancient hard (or floppy, or optical, or tape) drive with Flash RAM is attractive.
There's more than one part of the hack-as-presented that couldn't possibly work, but what I immediately noticed was the green USB-to-mini-DIN adapter, which is probably one of those standard adapters for connecting a USB mouse to a PS/2 port, several of which can usually be found in the desk drawers of anybody who's been using a PC for the last ten years.
Those mouse adapters are, as you say, just pin-adapters, containing no logic; you could in principle do the same job with paper-clips and tape. Mice that work with these distinctive green adapters all have USB and PS/2 compatibility built in, and use one or the other depending on what they reckons they're plugged into. I think any of the green adapters will work with any such mouse, but they won't work with a USB-only mouse, and they definitely won't work with USB devices in general.
This sort of thing is one of the standard causes of support people banging their heads on the desk.
Theorem: The guy who's daisy-chained adapters so he can plug his XT keyboard into his iPad is preferable to the guy who's managed to plug a PCI card into a memory slot by just pushing really, really hard.
Discuss.