A reader writes:
A thought struck me while driving home one night: If relativity means the speed of light is absolute, how is it possible for there to be a Doppler shift of light?

As I understand it, Doppler occurs when a wave source is moving and the peaks/valleys of the wave get scrunched up/stretched out.

The theory of relativity states that light shining from a moving vehicle is NOT traveling c (light speed) plus the speed of the vehicle, because time slows down relative to the stationary observer.

If all the crests of the wave are traveling at c and Relativity implies that the point source can't go any faster than c, then it would seem there's no way for there to be any shortening of the frequency.

How does relativistic time dilation not cancel out the Doppler effect much like the added speed of a vehicle is canceled out?

Add in the wibbly-wobbly-timey-wimey grey area of light being both a particle AND a wave at the same time and my brain is hurting me for trying to visualize how the Doppler shift works for light.

Chris
You are, and this is not something that's often said to people coming to grips with Einstein's theories, overthinking this.
Yes, as special relativity says and as everybody who talked to Einstein about it firmly understood until the concept slithered out of their brain about ten minutes after the end of the conversation (relativity is even worse than tax brackets in this regard), the speed of light is indeed a universal constant. No matter how fast the observer, or the source of the light, are moving relative to each other or relative to anything else, everybody always sees the speed of light in a vacuum as the same 299,792,458 metres per second.
(Things get a little more complicated when the light is moving in a medium other than vacuum, but our universe, at least, is conveniently largely made of vacuum. This is a useful thing to remember if someone attempts to persuade you that the universe has been fine-tuned just for us; if this were actually the case, 99.9999-and-several-more-nines-per-cent of the universe might fairly be expected to not be instantly lethal to humans... but it is. Oh, and just to make things a little more confusing again, Einstein also came up with a theory of general relativity, which has to do with gravity and is different from special relativity.)
So, as you say, light doesn't go past you any faster if the light source is coming at you, or any slower if the light source is moving away.
But when the source of a sound is coming at you, the sound doesn't pass you any faster, either.
The speed of sound is much less constant than the speed of light. Sound travels faster the "stiffer" the material it's travelling through is, so it's zero in a vacuum, around 343 metres per second in dry air at sea level, but about 1500m/s in water. Unlike the speed of light, it is of course possible for things to travel faster than the speed of sound, especially in air. But even when a sound-emitting thing, like a jet fighter, is travelling faster than sound, the sound it emits still travels at whatever the speed of sound in that part of the atmosphere is.
(This is why you don't hear a supersonic plane, or a supersonic bullet, coming...
...until it's already gone past you. In the case of a bullet, the noise it makes is pretty much entirely the "sonic boom" created by pushing air out of the way faster than sound. The shock wave around a supersonic aircraft, bullet or explosion can travel faster than sound, but the shock wave slows as it spreads out, and soon becomes a regular sound wave.)
But, as you say, the Doppler effect clearly changes the pitch of sound made by an approaching, departing or...
...passing sound source.
The reason for this is that when a sound source is approaching you, each new oscillation of whatever sound it's making is emitted when the source is a bit closer to you than the last, which puts the compressions and rarefactions of the sound waves closer together. This is, from your point of view, exactly the same as if you were listening to a stationary sound source making a higher-pitched sound. And if the sound source is moving away, the opposite happens.
Light is, once again, a somewhat more squirrelly concept, because as you say, photons have characteristics of both particles and waves. In this case the analogy still works fine, though; once again, the source of each new particle-photon or wave-photon is closer to you, or further away from you, when each new photon is emitted, creating the same effect you'd see if the light were coming from a stationary source with a higher or lower frequency, respectively.
It's often misleading to apply observations in the everyday world of modest velocities, masses and timescales to the much greater velocities, far larger masses, and/or much longer timescales which cause Newtonian physics calculations to give you clearly wrong answers, so that Einstein's refinements become necessary. In this case, the trap lurking in the speed-of-sound to speed-of-light analogy is that if you move towards a sound source, the speed at which the sound waves pass you, in your frame of reference, really will increase.
Sound waves can also pass you faster, or slower, than the speed of sound in a given medium if that medium (air, for instance) is itself moving from your point of view (because you're standing still and the wind is blowing, for instance). If you and the sound source are both stationary and a steady wind is blowing from the source to you, you'll encounter the peculiar situation in which the sound waves are passing you faster than sound, but the pitch is staying the same!
If you assume a stationary listener, no wind and perfectly spherical and inelastic cows, though, the light-to-sound analogy works.
Time dilation is irrelevant, here. If you're in a spaceship with red headlights and you're travelling at close to the speed of light, time will pass slower for you, from the point of view of a stationary observer, and your headlights will look blue, to a stationary observer in front of you. But the time-dilation affects everything on and within your spaceship, including you, your headlights and the tiny 32,768Hz quartz tuning-fork resonator...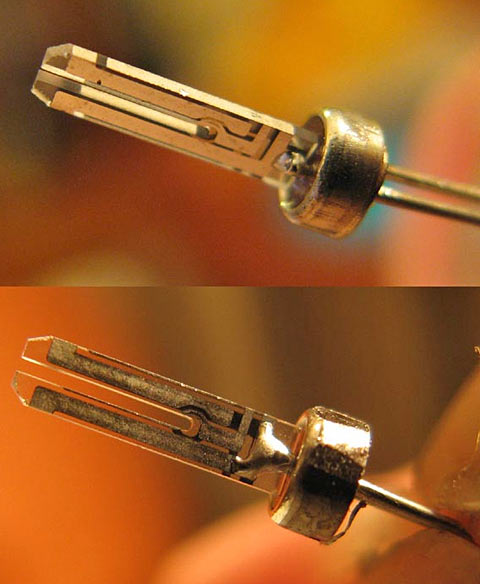 (Source.)
...in your wristwatch. So from your point of view, your wristwatch still counts one second per second, and your headlights are still red. (But the universe in front of you will look bluer, and the universe behind redder. The sound analogy works here, too; if you're in a car driving past a stationary car that's beeping its horn, the horn will sound higher as you approach and lower after you pass by.)
But if you assume a stationary listener, the speed-of-sound to speed-of-light analogy works OK. The sound, or light, passes you at the same speed no matter how fast the source is travelling, but the sound, or light, waves arrive closer together when the source is approaching, and further apart when it's departing.
---
Psycho Science is a regular feature here. Ask me your science questions, and I'll answer them. Probably.
And then commenters will, I hope, correct at least the most obvious flaws in my answer.