I don't really have a "when I were a lad, ten megabytes cost a million dollars" storage-price story. (I was even more Four Yorkshiremen-y...
...because I had t'cram a whole boot environment into two heavily compressed double-density Amiga floppies.)
The first hard drive I ever bought was a SCSI unit with a capacity of (slightly-less-than) one gigabyte.
It cost about a thousand Australian dollars.
This drive, which comes in a USB enclosure, has a capacity of three thousand hard-drive-manufacturers' gigabytes, which adds up to an NTFS-formatted capacity of 2.72 terabytes (or tebibytes).
It's on special at m'verygoodfriends Aus PC Market for $AU188.10, including Australian delivery.
Their cheapest bare 3.5-inch SATA "3Tb" drive is as I write this this one, for $AU192.50.
So the USB box around this 3.5-inch SATA drive, and the power adapter, and the USB 3 cable (which works fine with older USB ports), cost... negative four point four dollars.
This isn't really a review of this drive, which even its manufacturers couldn't get excited enough about to give it a snappy name. Current Seagate external drives are just called "Expansion Desktop" for these larger, less shock-tolerant 3.5-inch units, and "Expansion Portable" for the smaller 2.5-inch models.
Rather than a review, this post is really just a statement of mild incredulity at this thing's very existence, for this price. Come back in a few years and 2.7 terabytes for the thick end of $200 will sound like a ridiculous rip-off, but I'm not ashamed to say that right now, I'm impressed.
There's not a lot to review here anyway, of course.
The drive's compatible with USB 3...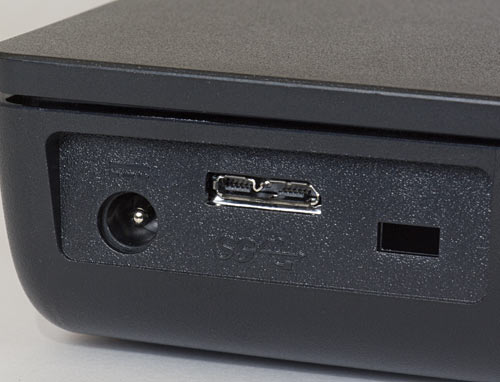 ...which explains the funny "USB 3.0 Micro-B" socket on the back.
USB 3 has its own version of the square-ish Type B plug and receptacle found on older USB peripherals, and old-style USB Type B plugs work in USB 3 Type B sockets, though only at USB 2 speed, of course. But USB 3 Type B plugs do not work in older Type B receptacles. Presumably Seagate used the micro-plug on this drive to avoid, or at least reduce, confusion.
USB 3 speed means that as long as you have a USB 3 controller in your computer, you won't have to spend forever and a day to fill this enormous drive. Hell, you could run applications from it, as long as you've never tasted the cursed fruit of SSDs and can no longer tolerate waiting more than six-tenths of a second for anything.
From USB 2 you can't expect to copy data to this drive at more than about 30 megabytes per second, which means about 1.1 days to fill the whole disk. USB 2'll be fine for backups and media playback, though. Even if you put Blu-Ray images on a drive connected via USB 2, you should be able to play them. (The maximum possible bit rate of a Blu-Ray movie is 54 megabits, 6.75 megabytes, per second. The most outrageously huge pirated 1080p movies seldom crack two megabytes per second.)
Oh, and apart from the USB connector and the power socket on the back of the drive, there is also a small rectangular hole. Presumably this same casing is used for USB 2 or FireWire drives, or just something with a power switch, which this drive lacks.
It lacks a power switch because it doesn't really need one; instead, it has some kind of sleep-mode thing, which is nice. It won't spin up at all if its USB cable isn't plugged into an active socket, and I have faith that it goes to sleep when unused too, though I haven't timed it.
UPDATE: I knew commenters would tell me to actually test the sleep function. Curse you all.
The drive definitely goes to sleep shortly after unplugging it from a computer. It didn't go to sleep after 35 minutes of inaction while plugged in, when I first tested it. But something might have tickled it during that time and reset its sleep timer. I don't have any indexing-service things running, and my online-backup utility isn't set to back up the Seagate drive, but this is Windows 7, there are about a thousand other possible drive-ticklers in there.
So I downloaded the "Seagate Drive Settings" utility from here; it's available for Windows XP through 7, but for no other operating systems, because screw you.
(They also have some kind of S.M.A.R.T. monitor thing, which may or may not be any use.)
Seagate Drive Settings says the default sleep time for the drive is 15 minutes, but I only got that number by clicking the "Default" button; it initially said "never", so perhaps out of the box the drive has no sleep-timer setting at all, which would explain my initial results. Anyway, Drive Settings allows you to set the sleep time as low as three minutes, so I did that.
Then I unplugged and powered down the drive, then powered it back up and plugged it in, and waited for Windows to detect it. I then did absolutely nothing with it, and the drive it kept spinning for about four and a half minutes, then went to sleep.
So either the timer's not accurate, or Windows decided to tickle the drive 90 seconds after initially detecting it. But yes, the thing does go to sleep when plugged into a computer, though you may need to tell it to do so with that Windows-only utility. And yes, you can set the sleep timeout to only a few minutes, if you want.
With regard to cooling, the drive has some minimalist vent holes on the bottom, but no real provision for convection cooling, and no fan. Modern consumer hard drives can run surprisingly hot without becoming unhappy; just standing this one on its side so the standard slots provide a little convection may actually be enough, even in warm climates. But if you're using the drive a lot, you might indeed want to give it some more air flow.
Since the drive runs from 12 volts and has a simple figure-8 power wire, what I'd do is splice a low-powered 80mm fan onto the power cord in parallel, and then either just park that fan so it blows over the drive, or cut up the casing and put the fan over the hole.
[end of update]
The Seagate Expansion drives also come with some proprietary Seagate backup software, but I don't care.
Rock-bottom price on eBay for a bare 3Tb drive, as I write this, seems to be hovering around $AU170 for drives deliverable to me here in Australia, or about $US155 (about $AU150, as I write this), for drives deliverable to the USA. There are a few of these same "3Tb" Seagate Expansion units down around that price, too.
So Australian buyers can save ten to twenty bucks over the discounted Aus PC Market price if they buy on eBay. Any warranty issues will probably be a smoother ride with Aus PC, but that's not a very big deal; the valuable thing about a drive is usually the data you put on it, which a new warranty-replacement drive will not contain.
Oh, and the very cheapest eBay Completed Listings for auctioned, as opposed to Buy It Now-ed, drives of this capacity are way cheaper. Occasionally under $AU100 in Australia, and under $US50 in the States, for drives which are alleged to work. If those listings are actually kosher, then lowballing bids with the sniping software of your choice - I use JBidwatcher - could get you a ton of storage so cheaply that this thing looks like a rip-off. Eventually. Perhaps.
I reckon a few more bucks to get the product from a long-established dealer with an address that isn't a post-office box and courier delivery, especially for an impact-sensitive device like this, is worth it. But Aus PC Market are m'verygoodfriends, so I would say that, wouldn't I?
$AU188.10 delivered from them while the special offer lasts. A bit less from eBay.
However you get it, you'll still feel as if you're Living In The Future.