In the comments of my post the other day comparing electrical and firearm energy levels, commenter "hagmanti" was delighted to be informed that the blast of flame coming out of a rail-gun's barrel...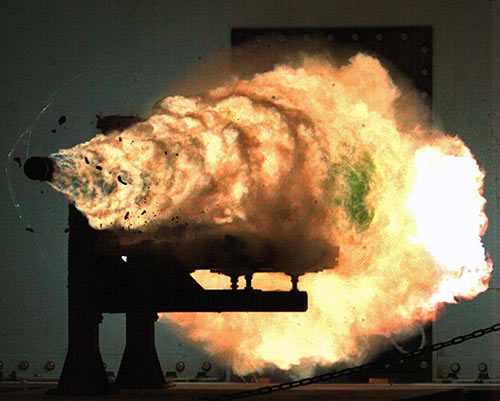 ...which makes it look more like a normal chemical firearm than most normal chemical firearms do, is vapourised rail and projectile material.
This is a serious problem for both military and... hobbyist... railguns. Damage to the projectile is not that big a deal as long as you're only firing "kinetic kill" lumps of metal, not explosive-filled shells. But a gun that needs to be torn down and have major components replaced every few shots is not a practical weapon.
There are actually analogous problems with a lot of other unreasonably powerful guns. Truly monstrous artillery like railway guns (often, confusingly, also referred to as "rail guns") could fire only a few hundred rounds - even with WWII technology - before the whole huge barrel had to be replaced.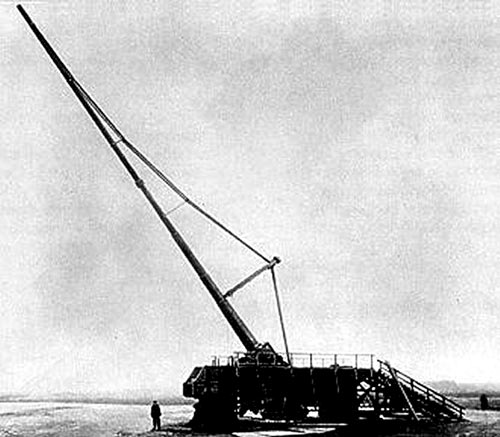 At least one of those railway guns, the World-War-One Paris Gun, had a series of shells of gradually increasing size to be shot in order, so the bullet always fit the barrel.
The same thing happens to small arms. A frequently-used rifle barrel will eventually be "shot out" and lose projectile velocity and accuracy, as the bullet bounces down the worn tube. It just happens a lot faster if you perversely insist on 120 million joules, or around 1.7 billion joules, of muzzle energy, for the Paris Gun and...
...Schwerer Gustav, respectively.
For comparison, the 16-inch guns on the Iowa-class battleships were good for a feeble 355 million joules or so, and three hundred or so full-power firings before the barrels wore out.
In their later life those mere 16-inchers became rather more destructive than any of the railway guns, though, on account of how they could toss fifteen to twenty kilotons of instant sunshine at the enemy.
And then there's the multi-chamber gun concept, where the initial propellant charge behind the shell is relatively small, and the barrel has branches containing subsidiary charges that are timed to go off after the shell has passed them. This design lets you have very high muzzle velocity without beating up the barrel, or the shell, with a single immense propellant explosion; multi-chamber guns could be used to launch satellites, as well as to kill people. But nobody's ever really gotten them to work, which is, I think, in most cases just as well.