There is nothing that players of online games will not complain about.
In MechWarrior Online, I've started a game and heard people complaining about how the new matchmaking system has given the other team a huge tonnage advantage, so their little 'Mechs are getting murdered by mobs of heavies and assaults.
And then, the very next game, someone's complaining that the matchmaker has given their side no light 'Mechs at all while the enemy has five of them, so this time their poor giant stompy monsters are getting pecked to death by a flock of lights.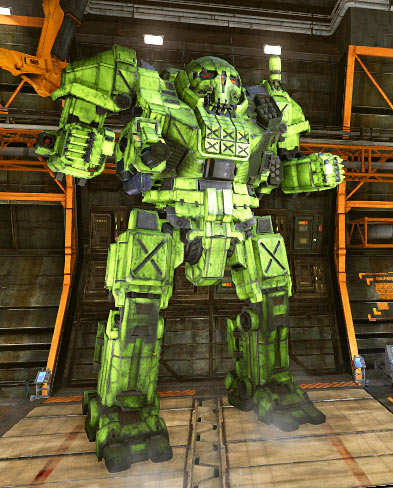 This picture isn't really relevant to anything in the post. I just thought you might like to see a high-visibility Atlas.
(Somebody's probably also going to find a way to complain about the MWO change that makes it more likely that seeing yourself shooting someone actually means you're shooting them.)
Many complaints about games, especially games that're still in beta like MechWarrior Online, are valid. But someone will also venture forth upon a discussion board and proclaim a game ruined if there's a slight change to the kerning of the menu font.
(In the MechWarrior Online font, capital I looks exactly the same as lower-case L! WORST. GAME. EVER.)
Which brings me to the latest source of rustled jimmies in my favourite imaginary giant Internet robot game:
Consumables.
MechWarrior Online is going to have special things you can stick on your 'Mech that you can use in a fight, a limited number of times. Then you'll then have to buy the special consumable thing again, if you want to use them again.
The first consumable they've announced in any detail is "Coolant Flush", a thing from the tabletop game which they're implementing as a widget you can put in a module slot on a 'Mech.
If you pay in-game "C-Bill" currency for Coolant Flush, you'll be able to buy a Small and a Medium version of it, each of which will take up one module slot.
If you pay real money for "Mech Credits", though, you'll be able to buy a one-module-slot Large Coolant Flush that has the effect of both of the C-Bill ones, but only takes up one slot.
Cue the outrage and misery. This is a free-to-play game, so like all the rest of them it's constantly trying to dodge the shadow of the "Pay To Win" monster. Special improved versions of things that you can only buy with real money invariably piss off the player base.
Whether this is actually a big deal or not in this particular case comes down to the numbers.
The first important number is what Coolant Flush, and other consumables like artillery strikes, will cost.
If these things are really expensive, so pay-to-win players with deep pockets can have them every match but nobody else can, and if they give you a real large advantage, then the complaint is valid.
If they cost very little, so the only real choice is between the advantage of the consumable or the advantage of a conventional module, then even if the consumable is very powerful, it shouldn't be a big deal.
So, is Coolant Flush likely to be very powerful?
Heat management is a central mechanic of all of the "proper" BattleTech games, from tabletop to computer. Most guns make heat when you shoot them. Energy weapons that don't need ammo make more heat than guns that shoot bullets (which are another kind of consumable, but which get reloaded for free every match). If your 'Mech gets too hot, it has to shut down or run the risk of stuff exploding. So, for almost all 'Mechs, anything that can dump heat quickly is highly desirable.
Piranha haven't completely explained what Coolant Flush will do, and it is of course subject to change. They say that the effectiveness of Coolant Flush depends on the number of heat sinks in your 'Mech, and that a 'Mech with ten heat sinks (which is what you get built into every engine) will get a total cooling of 35% - 15% plus 20% for using Small and Medium Coolant Flush in succession, or hitting the key twice for the real-money Large version.
If Coolant Flush operates like normal heat-sink function, then a 'Mech with 20 heat sinks (the ten in the engine plus ten more separate ones) will thus get a maximum of 70% cooling, and you'd need a somewhat crazy 18 extra sinks to get almost-100% cooling.
The pretty-much-essential Double Heat Sinks upgrade makes your ten engine heat sinks the equivalent of 20 single heat sinks, and somewhat confusingly gives you number-of-other-heat-sinks-times-1.4 on top of that. So with no extra heat sinks a 'Mech with the double upgrade will get 70% cooling from using both tiers of Coolant Flush, and it'd need only six extra heat sinks to get to about 100%, to take heat from 99% to close-to-zero.
It's actually more complex than that, because, I think, adding more heat sinks also adds to the total heat capacity of your 'Mech as well as how fast heat drains away, and I don't know how that'll interact with Coolant Flush. It does seem that normal 'Mechs with realistic numbers of heat sinks will be able to get about a total heat dump from the two C-Bill Flush thingies or the single real-money one.
That definitely would give many 'Mechs a big advantage. Even if you're just one player in a random pick-up game, dumping all of your heat so you can shoot all of your guns again right away is a duel-winning advantage. A whole team of laser monsters who can drop to zero heat whenever they want, even if they can only do that once, would have a big advantage in a brawl.
But you already have to pay money to put anything into a module slot on a 'Mech. Modules are bought with C-Bills, but to unlock a module type so you can buy it you have to spend "General XP", which is created from normal "Mech XP" by spending a small number of Mech Credits. Unlocking a fancy module like the Capture Accelerator or second-tier Sensor Range will cost you $US2.50 to $US3.00, depending on which of the Mech Credit packs you bought and whether there was a sale on.
People don't complain about that, though, because once you've unlocked a module it's unlocked for good, and three bucks is not a lot of money. Modules are also not Automatic Win Machines - they just give 10%-to-25% advantages in specialised areas like how fast you can capture something by standing on it, or how long it takes before an enemy you've lost sight of drops out of your targeting system.
If there are consumable three-dollar module-things that give a big advantage, and that cost as much in C-Bills as you can possibly make in ten consecutive games, then great and valid will be the outcry.
If these things cost 20 cents each or as much many C-Bills as you can make in one game, though, the inevitable whinging won't be as persuasive.
And if they cost little in C-Bills but a lot in real money - which would, I think, be a pretty clever way to do it - complaining would be the act of a crazy person.
That still wouldn't stop 'em, of course.
UPDATE: A rethink, and clearer explanation, of how consumables may work.