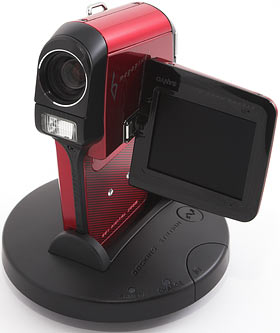 Sanyo's Xacti VPC-C6 (which may be known as the DMX-C6 in your country) is a great little gadget.
Close-to-DVD-quality video recording (640 by 480, 30fps) straight to SD card in MPEG4 format, and decent still image performance too. And there's a not-too-bad digital image stabiliser, and passable low light performance, and you even get quite good sound from the built-in stereo mic, which is just as well because there's no way to plug in an external mic.
Cameras with a tape or disc transport in them can't help but record their mechanism noise if you use their internal microphone, but the C6 is silent when you're not zooming, and the zoom's very quiet too.
It's good for the other things it lacks, to. It's not cluttered with zillions of stupid special effects modes you'll never use, for instance. It doesn't come with any of those gaudy stickers that remind mainstream camera buyers about the resolution and lens specifications of their purchase. And it's got voice prompts, but they're not very annoying and can, of course, be turned off.
Another thing the C6 lacks is size. It's a tiny little thing...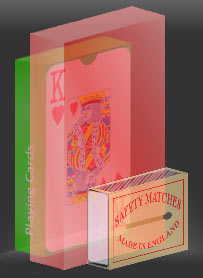 ...as you can see in this comparison. The red box is just the C6's external dimensions; the actual camera is slopey and round-cornered and highly pocketable, but still manages to cram in a two inch screen with the usual fold-and-flip movements and a sturdy-feeling hinge.
The C6 is about a year old now. Since its release, Sanyo have come out with an underwhelming HD version, and apparently then a somewhat better HD version, and a splashproof version, but nothing terribly much better. The C6 is still very much worth buying, for the right price.
The C6 sold for about $US655 when it launched. At that price, it was going up against a lot of excellent camcorders. They're all bigger than the C6, of course, but there are plenty of MiniDV and mini-DVD camcorders that're quite compact enough for most people, and have extra stuff like lots of optical zoom (the C6 only has a 5X zoom lens, plus the usual pile of useless digital zoom to go with its useless interpolated ten megapixel maximum resolution still image mode; it's got a genuine 6MP sensor, and it can actually resolve, oh, maybe half of that), external mic connectors, et cetera.
This, for instance, is a couple of months younger than the C6, but much better value at $US399 than the C6 was for $200 more.
But that was then, this is now, and I bought this C6 for $AU414 including delivery on eBay. They're about five bucks cheaper again, now, so we're talking about $US315 delivered, as I write this.
My money bought me the standard C6 kit, a spare (off-brand) battery, a little bendy tripod, a soft bag, and a very manly bright pink neck strap. I bought it all from DigitalRev on eBay, who bundle those extra "gifts" with pretty much everything they sell. The bendy tripod is actually a rather good match for the featherweight C6, if of course you don't mind it being only about two inches off the ground.
There are a few local dealers here in Australia who sell C6s for something approaching this price, but they all look dodgier than DigitalRev to me. US dollar prices, FedEx delivery and the option of "import duty insurance" from dealers who claim to be Australian? Riiiight.
(All of the really good C6 prices seem to be in Hong Kong, so eBay's probably the way to go for most buyers. If you're in the USA, though, Amazon currently have the C6 for $US449.99 including delivery, which ain't bad for a camera with a local warranty. Beards And Hats have it for ten bucks more, not including delivery, which is less exciting. I'm sure there are many more exciting deals available from NYC's more salubrious establishments.)
DigitalRev will sell you a memory card along with your camera, but their prices for those aren't the best, so I bought a 1Gb card separately. 2Gb is the largest the C6 can accept. You get well over 40 minutes of video per gigabyte - Sanyo say "up to one hour" - and a ceiling of an hour of video record time per battery.
Even with a 2Gb card, the C6 still ends up costing about the same as a decent MiniDV camera, but it's much easier to use with a computer. Just plug it in via USB, or stick the memory card in your card reader, and you've got computer-ready video files right there. It comes with some kind of software package, but I've ignored that completely - VDub's good enough for me.
And, I remind you, the C6 is just so small. It's a grown-up version of those baby-cams that're still on sale all over the place.
Baby-cams are great, if you know what you're getting. The modern versions shoot proper smooth 25fps-plus video in standard formats, and their fixed focus, no-zoom, webcam-type lenses are fine for shooting happy little 320 by 240 clips; they even go some way towards resolving 640 by 480. For well under $US100 (toy-cam experts Aiptek have prices right there on their front page), they're a great deal.
But then there are things like this.
This is from the last K-Mart sale catalogue. They're selling this cheap-lensed piece of plastic crap for about the same price as the metal-cased C6, and should be ashamed of themselves for doing so.
I can't quite identify the precise OEMmed yum cha camera this is, but it seems to have the same specs as the Aiptek MPVR, which is currently a $US170 item direct from Aiptek, and rather cheaper elsewhere.
At that price, the MPVR is not a bad product. And its camera specs are right in line with the Aiptek/Mustek/whatever cameras that're going for $US95, tops; they're good for the money, too.
At the equivalent of more than $US300, though, the K-Mart camera is daylight robbery.
Aaaaanyway - if you like the idea of a teeny-tiny digital video camera that's practically purpose-built for video-podcasty sorts of tasks, not to mention light enough that you could easily loft it with a kite if you're brave, then get yourself a C6 while the getting's good. It's a decent choice for anybody who wants an ordinary still/video camera with the emphasis on the video; it's an excellent choice if you've already got a DSLR and want something that fills the two gaps in the DSLR's feature list - movie recording, and smallness.
If you'd like to read a proper C6 review, the one at Steve's Digicams is good.
(One more note. Is your brand new shiny C6 apparently stone dead? That's because you've put the battery in the wrong way around. Most battery packs are keyed so you can only insert them one way; the C6 battery isn't. Fortunately, Sanyo weren't daft enough to make the battery able to short out if you stuck it in backwards - just turn it around and you'll be fine.)
(Update: Find a few hints and tips here!)