While I was watching the most recent episode of the not-usually-very-good Fifth Gear, I discovered that the recently publicised VW-Touareg-tows-747 stunt (about which my own deathless insights can be found here) was actually done for (or at least partly by) that show.
What immediately distracted me from the stunt itself, though, was the deep weirdness of the aircraft being towed.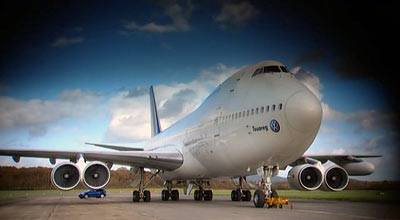 Instead of having two engines spaced out across each wing, their 747 had drop-tank-y things where two of its engines should be. It still had four engines, but they were mounted in pods of two, like B-52 engines.
There have been many 747 variants, including early versions that sometimes have five engines - the extra one is inactive, just hung from the left wing for transport purposes, but disbelieving onlookers generally don't know that. But nothing that looks anything like this. Even the I-swallowed-a-787 Large Cargo Freighter has its engines in the usual place.
Cutting to the chase: It's not a real 747 variant. It was used in a movie, it can't fly any more, the weird engines are fakes.
More details in this press release.
Does anybody know what movie this plane was in?