I live in Katoomba, a town replete with cafes and art galleries. Not to mention art galleries with cafes in them. And cafes with little art displays.
This kind of town tends to breed sculptors, and that subcategory of sculptor who's good enough with a welder to make sculptures but not good enough to get a proper job (OK, some of them are true MIG poets, but most aren't) tends to produce weird garden art.
They didn't necessarily mean it to be garden art in the first place. But they couldn't sell it, and it was really big and pointy, and their wives were perfectly clear that it wasn't going to stay in the front room no matter how much they enjoyed opening their beers on it, so out in the garden it went.
I'm not really a fan of the usual whimsical googly-eyed-giraffe-made-out-of-springs kind of welded sculpture.
(Though I much prefer it to what one gallery not far from here has out front - a life-sized 3D replica of the screaming horse from Picasso's Guernica. Dear god.)
But I could, in certain circumstances, be persuaded to make an exception.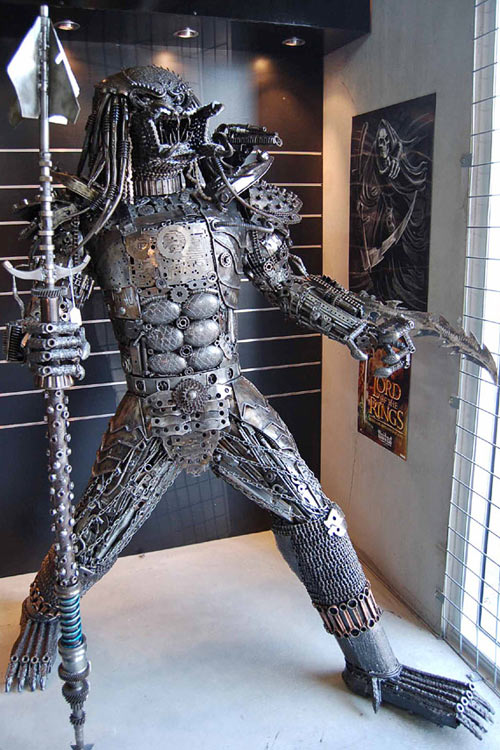 It would appear to be to scale with the original actor, if not even bigger. It's not cheap, but great art never is, is it?
(If you're reading this after the auction page is gone, it was from this eBay seller, and I've archived the page here.)
I realise that not all men would want this thing. I further realise that women who would also like it do exist.
I do not, however, feel I am being unfairly stereotypical by pointing out that it is (a) awesome and (b) perfectly acceptable grounds for divorce.