Microsoft's IntelliMouse Explorer 3.0 was, arguably, the best mouse a right-handed user could get when I reviewed it - and compared it with Logitech's show-off dual-pickup MouseMan Dual Optical - back in 2001.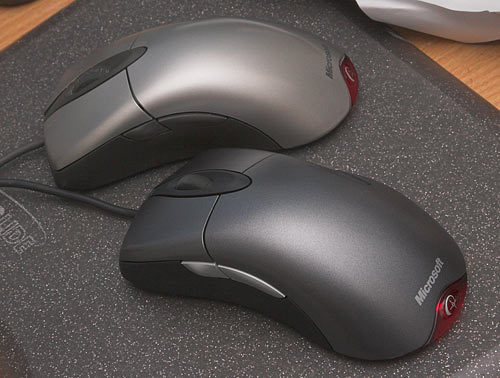 And, as you may have heard, it has returned.
The final decision back in '01 came down to what shape you preferred, and left-handers were left out in the cold then, as they still pretty much are now.
But the Explorer 3.0 felt good to little old right-handed me, and it worked well. The two side thumb buttons are in just the right place, and the mouse feels neither too small nor too big. I like a teeny mouse for use with a laptop, when you often have a crummy wrist angle and need to hold the mouse with your fingertips from above to avoid strain injuries. But with an ergonomically correct desk setup, a big, though sculpted, mouse like this works for me. Perhaps I'm getting set in my ways in my old age, but I've kind of settled on the Explorer 3.0.
(I don't want a cordless mouse; yes, they work perfectly well these days, but I prefer a bit less weight and zero battery concerns. I keep my mouse cord organised with a simple weight, which you can readily make yourself; that may have something to do with the disappearance of the WireWeights company. More elaborate cord management contraptions are still on sale!)
Explorer 3s seem to last pretty well, too. My mouse gets a whole lot of use, but I can count on at least three years of service from an Explorer 3.0 before the cable goes flaky or the wheel starts mis-counting.
Microsoft were left behind in the feature-chart race, though. So they retired the 3.0, and created a new and awful version 4.0 of the Explorer.
This whole post is very much the outside scoop for gamers, of course, but the Explorer 4.0's suckage centred around its new and allegedly fantastic "tilt wheel", which you could not only roll up and down and click for the button-3 function, but could also tilt left and right for horizontal scrolling.
The tilt function made the click function hard to use, and they deleted the clicky detents in the wheel rotation that're essential when gamers want to accurately select a weapon.
So people who liked the old 3.0 started paying premiums for new old stock on eBay. Microsoft eventually noticed this, and reintroduced the older model.
Apparently the new Explorer 3 has a faster sensor chip in it, or something, but the change isn't significant enough that Microsoft bothered calling the new-old-mouse the Explorer 3.1. It is, for all practical intents and purposes, the same as the good old 3.0.
Except now, as you can see, it's dark slate-grey, with only slightly cheesy matte silver side buttons.
Here in Australia, m'verygoodfriends at Aus PC Market sell the new Explorer 3 for $AU69.30 including delivery anywhere in the country. Australian shoppers can click here to order one.
That's really not a bad price at all. Microsoft's fancy-pants Razer-collaboration Habu costs twice as much, and Logitech's flagship corded mouse, the G5, is not a lot cheaper.
Microsoft now seem to be calling the Explorer 4.0 just the "IntelliMouse Explorer", and OEM (no-fancy-box) versions of it can be had in the States for quite a bit less than the price of a new 3.0. At that price it's a perfectly OK desktop mouse, but it's still no good for many games. Aus PC Market have given up selling it.
Interestingly, Microsoft's main list of mice doesn't include the 3.0 at all any more. Look under "gaming products", though, and you can find it, next to the Habu.
The Explorer 4.0 tilt wheel also lives on in some even swoopier products. I'm not itching to try any of them, though.
Viva 2001!