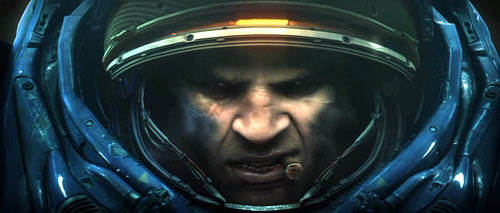 The StarCraft II cinematic trailer is mainly about the awesome and terrifying technical processes involved in the production of the pissiest unit the Terrans have. Which is a great gag, and one which I've often found myself thinking would make for a good Supreme Commander promotion.
Not that it makes any real difference to gameplay, but SupCom's scale is the biggest of any real-time strategy game in which you still control individual units (check out the old '06 E3 trailer for some soul food for the 14-year-old boy inside all of us). Even little cute units like the spherical basic Aeon construction bots are half the hight of an adult tree, and they hover far enough off the ground that they'd whiz way over the head of StarCraft's battlesuited Terran Marines.
The Tech 3 siege bots that everybody uses in hordes if a SupCom game lasts that long are BattleMech-sized (this is 0.38-scale!). It has also been observed that the biggest gun in Supreme Commander is about as tall as the Eiffel Tower.
Nobody's going to be making any more official trailers or full-sized trade show models for SupCom now that it's out, of course, but I hope some nutty fan will work something up. A crowd of Siege Tanks desperately attempting to hold back the unstoppable might of four tech-1 light assault bots would be entertaining.