A while ago, because nobody sensible stopped me, I bought a Game Boy Camera to go with the clear-cased original Game Boy we've had for a while.
The Game Boy Camera may be the lowest fidelity digital photography device ever made. I'll leave it to others to explain its magic.
If you've got the Camera, though, the logical next step is to get a Game Boy Printer.
If you don't have a Printer, you can get images out of your Game Boy Camera by using a cable that connects to a PC and makes the Game Boy think it's connected to the Printer.
Or, as I did, you can improvise.
But I needn't scan the Game Boy any more, because yesterday I took delivery of my very own Printer!
With no paper.
Like lots of other old crummy printers, the Game Boy Printer uses thermal paper. The special little narrow rolls are now very hard to come by.
All thermal paper is, however, very much the same. So I rifled my wallet for an ATM receipt, cut it to fit the printer...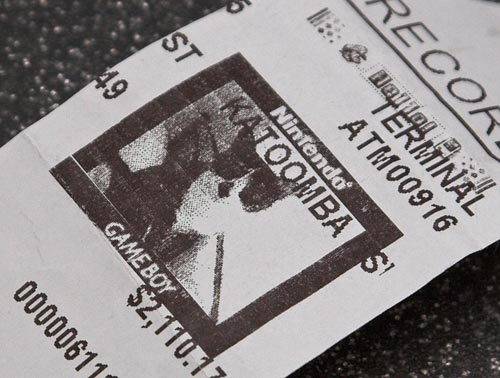 ...and made my first print!
The "KATOOMBA" is from the original ATM printout, as is everything else except the black-framed picture of Joey and, at the top right, the greeting from Mario that you get when you turn the Printer on with its Feed button held down.
The image area inside the print's black "NINTENDO" border is 21.5 by 18mm. About 410 such prints would fit on one of the "Super A3" sheets that're the biggest my Stylus Photo R1800 can accept.