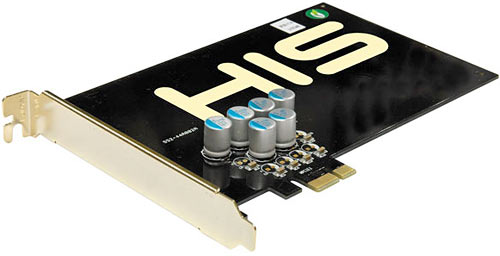 The above-pictured object is an HIS iClear Card. And I don't know what it does. It was brought to my attention by a reader who suspects it has no function at all. I think he may be right.
According to the iClear Card's product page on the HIS site, it, and I quote verbatim, "is HIS latest solution to video card noise reduction. It has an excellent implement of state-of-the-art design and technology and give you a better gaming experience by reducing the distortion and noise generated from graphic card. It reduces the noise distortion generated from high-end graphic card (from both Radeon and GeForce) or TV tuner card, which provide up to 10% increase performance on Signal-to-Noise Ratio."
And they go on. Apparently it has "State-of-the-art design". But if you look at its specifications page, the only spec it seems to have is a name.
I suppose the "state of the art" part is because it plugs into a PCIe x1 socket, not boring old PCI. It's a bit hard to see in the picture, but I think it also has contacts for all of the PCIe x1 pins, too. But all it seems to have to connect to any of those pins are six capacitors and a few tiny surface-mount components, all sitting in the corner of an otherwise empty rectangle of fibreglass.
So I suppose it's meant to be a power supply smoother, or something. It's within the bounds of possibility that noisy DC input could have some sort of effect on the performance of a video card, if only making it less overclockable; putting a few more caps across the input rails would help with that. But many modern video cards get most of their power directly from the system PSU; hanging some caps across the PCIe power rails won't make any difference to that.
And I'm entirely at a loss regarding how this has anything to do with "noise reduction". Most PCs these days have a 100 per cent digital data path for the video subsystem, so there's no need for noise reduction at all. Software tells the graphics card what to do, it figures out what colour all of the pixels should be, and then it communicates that information to a monitor via a digital link. "Noise" doesn't enter into it, here; if there's enough noise to actually affect even one pixel of the signal, the result will probably be a completely blank screen or a hideous mess. The effect of noise in digital systems is either zero or catastrophic; there's nothing in between.
Perhaps the iClear Card is s supposed to make analogue "VGA" video less noisy. But I've never seen even VGA video that actually was noisy. I've seen distortion from cheap VGA extension cables and blurriness from the inescapable failure of CRT screens to display square pixels on their non-square phosphor, but not noise.
Alexey Samsonov at Digit-Life spoiled the fun by actually reviewing the iClear, testing it in the one application where it'd have the best chance of doing something - when a low-quality analogue TV tuner card is trying to tune a weak signal, but a video card a couple of slots over is emitting RF noise and making it difficult.
And lo and behold - the iClear actually did something!
For almost the entirety of almost every signal-to-noise-ratio graph in the review, the "without iClear" and "with iClear" lines are right slap bang on top of each other. But here and there, at certain frequencies, the without-iClear line actually does dip below the other one. In a couple of places, by as much as three decibels. And it never goes above the other line, which suggests that the differences aren't just experimental error.
I'd be interested to see what happened if you just plugged a completely blank card into the slot between the video card and the tuner, though. As long as the card has a ground plane and one lousy contact hooking that sheet of featureless copper up to the system ground, I suspect you'd see a similar reduction of noise at certain frequencies. You'd think that if the capacitors were really doing something, there'd be at least a small signal-to-noise improvement across the whole spectrum graph. That's what HIS is claiming, after all, insofar as their claims are comprehensible at all.
Apparently Newegg have been giving iClears away for free with purchase of a video card, which implies that the card has not been a major commercial success.
At least they're not claiming it makes your hi-fi sound better.
[UPDATE: Boing Boing Gadgets presents X-Maple pixel-flutter reduction block for PCIe!]