Man, "I" seem to be sending a lot of spam these days.
Since I wrote about what happens when someone looses a volley of spam with your e-mail address in the "From:" field, there've been a few other spam-runs that've resulted in smaller backscatter storms pitter-pattering into my e-mail account. From which I then, of course, deleted them without downloading, after scanning the headers with good old MailWasher.
Yesterday, though, I got this: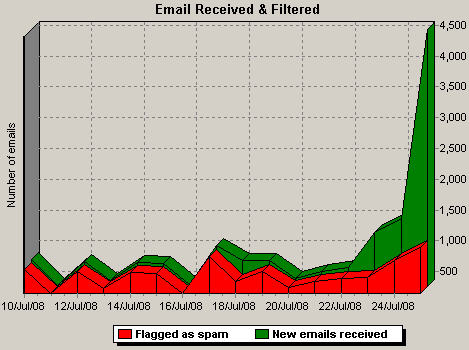 As soon as I'd finished scanning headers and deleting a couple of hundred messages, there were another couple of hundred waiting. It's slackened off, now; the total for this run may end up at 5000 bounces.
As usual, the bounces came from umpteen small and medium businesses, US middle schools, mailing list servers (I don't think I've been subscribed to or unsubscribed from anything, this time)... you name it.
Perhaps I should have just picked half a dozen at random and sent them form letters telling them about the problem. Maybe the administrator addresses for one or two wouldn't even give me yet more bounces.
---
If you're looking for a standalone header-scan Bayesian-spam-identifying whitelist-plus-blacklist sort of app for Windows, I think MailWasher continues to be a good option. It's been updated considerably since my ancient review of it.
Note, however, that the last MailWasher update was quite a while ago, so the program (well, the full "Pro" version of it, anyway; I don't know about the free-as-in-beer basic version) still defaults to using the Open Relay Database (ORDB) service to identify spam sources.
ORDB has been defunct for a long time, now, and earlier this year the minimal server still running at the ORDB address started loudly announcing the service's discontinuation by returning a "positive" response for every single query.
That means that MailWasher, with ORDB activated, will say that every single message it looks at is spam, according to ORDB. I think it actually won't default to marking all messages for deletion, but this obviously still completely breaks MailWasher's basic functionality.
Easy to fix, though: Just uncheck the ORDB option in the "origin of spam" config tab and you'll be fine.
MailWasher also defaults to adding the apparent sender address for every message identified as spam to its blacklist, which seems to me to be just as dumb, if not as annoying to others, as sending bounce messages to those addresses (which is another feature you can turn on in MailWasher - for the love of all that is Holy, please don't). Uncheck the "Mark the sender of the email to be blacklisted" options in the "Origin of spam" and "Learning" setup tabs, and it won't do that any more.
Feel free to suggest, in the comments, any other standalone header-scan mail-filter programs you think I should check out. I'm aware of the spam filters built into various modern e-mail clients, but I'm still using a version of Eudora carved from primordial basalt and so don't need any of those.
Any filter that requires you to download all of the spam, rather than just scan the headers, is also Right Out. Even when I'm not in the middle of a backscatter snowstorm.