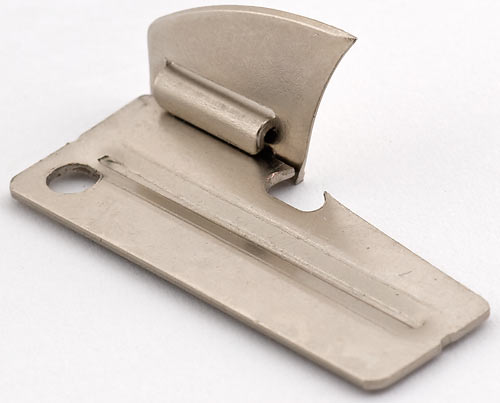 The P-38 can opener is something of a design classic. Tiny, inexpensive and extremely reliable, it's been cracking cans open since the Second World War.
But I'd never even seen one, and was interested to find out how well this iconic military tool actually worked.
So I bought four of 'em, for $US2.25 plus $US4.50 postage to me here in Australia, from this eBay seller. Their only sin was that they packed a worthless cell-phone booster sticker in with the can openers. But that was free.
(Here that seller is on ebay.com instead of ebay.com.au.)
[UPDATE: That seller's gone now, but there are tons of other eBay dealers with P-38s and their larger cousins, P-51s, for sale.]
Herewith, my in-depth review of the P-38:
It does, indeed, open cans.
It does so quantifiably better than would a sewing needle, a rubber chicken, or a silver dollar.
Opening a can with a P-38 is, I'm fairly sure, on the whole generally preferable to starving to death.
The P-38 is, however, a quite serious pain to use. Clip onto can rim, twist hard to make initial puncture, slide a little, twist again. Repeat many times. It requires considerable strength, and you can just feel the repetitive strain injury growing in your hand.
But the P-38 is only an inch and a half long, folds flat, weighs close to nothing, and can be manufactured in great quantities very cheaply. Given these limitations, I can't imagine how you could make a more elegant or effective opener for all sorts of cans.
So, fair enough. Case closed, right?
Wrong.
I'm told, you see, that P-38-type can openers are actually the normal kind of opener, for everyday domestic purposes and not just camping and the military, in some countries. Finland, for instance, and apparently also Brazil.
The versions they use are generally non-folding solid-metal types...
...which are more durable than the lightweight P-38, and are often also a bit bigger, for better leverage and less pain. (There's a larger version of the P-38 as well, called the P-51.)
But, based on my experience with the P-38, I'm here to tell you that making this same device somewhat larger and from one piece of heavier metal will not solve its serious problems.
This sort of opener is a bloody awful thing to have to use.
Why in heaven's name would significant portions of the population of any even slightly affluent country prefer it, and - as is apparently also the case in Finland and Brazil - often believe that the much faster and far easier-to-use turn-the-knob "rotary" type of can opener is likely to be an unreliable piece of crap?
Well, unreliable-piece-of-crap rotary can openers definitely do exist. There's one in this house, which I've had to use when I couldn't find the MagiCan.
Even though that crappy opener tends to lose the thread and have to be restarted a couple of times to puncture the lid all the way around, though, I solemnly attest that it is still better than the P-38. I think it'd beat a bigger, one-piece P-51-type opener too, though that might be a close-run thing.
You do not, however, have to spend a lot of money to get a rotary opener which, like the MagiCan, will open many hundreds, if not many thousands, of cans quickly, easily and completely reliably.
Yes, electric can openers for domestic use are stupid if you're not afflicted with arthritis or severely short of the most popular number of fingers, and the very cheapest dollar-store clones of the good rotary openers are not reliable.
But the can-opener design problem has been a thoroughly solved one for many years now. For the first half-century of the history of the can, they were made from such thick metal that no hand-held opener short of a hammer and chisel would do to open one. It didn't take terribly long after the metal got thinner for a variety of purpose-built openers to be designed, though. The first rotary opener was invented in 1870.
If people in Finland and Brazil think that a P-38-ish opener may perhaps open even more cans, without breaking, than a high-quality rotary type, then I suppose they may be right. But the number of cans you'd have to open with your twisty spiky thing to see the difference would, I think, have long since led you to employ that pointy little blade to slit your own throat.
I invite enlightenment on this subject from any readers who live in places where twist-spike openers are the norm.
(If you want to buy a P-38, they start from approximately no dollars on eBay. The P-38's larger and less painful cousin, the P-51, is also easy to find on eBay, for approximately no dollars plus 20 per cent.)