The other day, I bought two little laser pointers on eBay, for a grand total of $US3.76 delivered.
I intended to use them as cat toys, since the only red pointer we've got here that doesn't run from those useless button batteries is a bit flaky.
I chose those particular pointers because they were the very cheapest AAA-powered lasers I could find. They were promoted as "Ultra Powerful Red Laser Pointer Pen Beam Light 5mW", but they almost certainly actually had an output of only one or two milliwatts, like almost every other cheap pointer.
This power level presents pretty much zero eye risk, according to the rather complex risk calculations I explained at great length in my review of a much more powerful pointer.
A genuine five-milliwatt laser certainly can damage your retina if you stare into it from close range, and it's theoretically possible for glance exposure to cause eye damage at ten to maybe twenty metres, given the beam characteristics of cheap lasers.
A cheap two-milliwatt laser can't possibly hurt your eyes if you're more than ten metres away - probably closer, actually - and the one-milliwatt output you'll get from the very cheapest lasers and from those ubiquitous button-cell keyring lasers when the batteries have more than a few minutes of use on them will probably not hurt you even if you do stare into them at zero range.
Not that you should do it just to see, but the hazard calculations start looking pretty stupid as you drop below 5mW.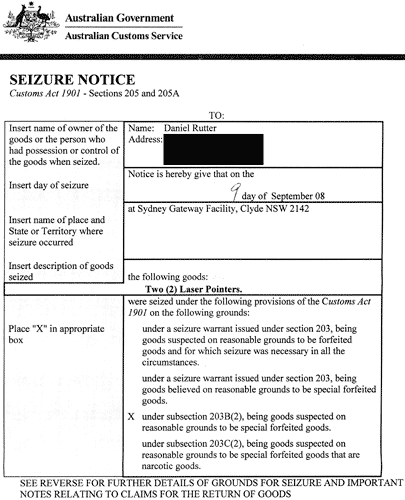 Naturally, Australian Customs chose to protect the Australian people from these terrifying devices, by seizing them under subsection 203B(2) of the Customs Act.
(This only the second time this has happened to me. The other time was when Ron Toms tried to send me an inexpensive Airsoft gun along with a box of other toys for review. The Customs guys left me the instruction manual, battery and charger, so I presume they really did incinerate the gun itself.)
Should I wish to contest the seizure, it would appear my first step would be to obtain Form B709B from the Firearms Registry of the New South Wales Police, which I could of course not actually do, after which I would be able to lodge a "B710 Application to the Minister for Permission to Import Weapons", which he would of course not grant.
At least I didn't have to go to bloody Clyde to pick up the package, as I've had to a couple of previous times when Customs were doubtful about something I'd bought.
(The second of those times, the item in question was a Gerber multitool. The nice Customs lady went into the back room to make sure it wasn't actually a switchblade or something. Her experience with tools in general may have been somewhat limited, since she came back bleeding. But she was very good-humoured about it, especially after I gave her one of the Band-Aids I keep in my wallet where less practical, or perhaps just more interesting, people keep a condom.)
This foolishness happened, of course, because a couple of geniuses shone green lasers at planes coming in to land here in New South Wales. And, immediately, our sagacious elected protectors made new laws which caused ordinary laser pointers - including low-powered red ones that have almost no ability to dazzle anyone more than a stone's throw away - to be classed as weapons.
Now, anything with output above one milliwatt is a prohibited import.
Actually, in New South Wales and elsewhere, it would appear that all lasers above one milliwatt output are now Controlled and/or Prohibited Weapons, like military flame throwers and rocket-propelled grenade launchers. The maximum penalty for merely possessing a perfectly normal office laser pointer would, therefore, now appear to be fourteen years in prison.
I'd like to say that I'm sure that a judge would recognise that the assortment of silly ninja weapons and quite inoffensive items - like ordinary handcuffs, for instance, or even a home-made cardboard replica of a Sidewinder missile - that one or another drum-beating politician has added to the list of prohibited weapons, are not the same as an actual working RPG-7. And that of all the ridiculous things on the list, a $2, 2mW, laser pointer may be the most ridiculous.
But you shouldn't be up in front of a judge over just owning a 2mW laser pointer anyway. And, given the way things have been going lately, I don't know how much sanity is left in the system.
You'd think that even the docile beta apes who can be counted on to support frank fascism when presented with the simple stimuli so famously explained by Hermann Goering would, by now, have started to realise that just this once, for the very first time in human history, they are being lied to.
But no. Not so much.
Hating everyone and everything that's slightly different from you still seems to play pretty damn well out in the sticks where they marry their cousins and have sex with the cows. By which I mean, a one hour drive from the Sydney Opera House.
We still do not seem to have reached the point where any electable candidate for public office in Australia - or, of course, in the USA - will come within a hundred miles of saying that making little old ladies take their shoes off is not an essential measure to prevent conquest of the world by radical Islam.
Oh, and do note that while 2mW laser pointers are now super-illegal death rays here in New South Wales - instantly making felons of, what do you reckon, maybe a third of the population? - laser diodes with the same or more power which happen to be part of ultrasonic tape-measures, laser levels, Blu-Ray players, barcode scanners or any of approximately one billion other classes of device are all still perfectly legal, and expected to stay that way. Because we all know that terrorists do not own screwdrivers, or know how to find Instructables.com.
I remind you, at this juncture, that Wicked Lasers and their spin-off TechLasers continue to offer a 100% delivery guarantee for lasers the size of a billy-club that cost a thousand dollars and have at least a few hundred times the output power of the ones Customs seized from me.
Techlasers have a "100% Money Back Guarantee if for ANY reason your product cannot be delivered to your door, no questions asked", while Wicked Lasers will give you your money back plus a hundred dollars if a laser doesn't make it to you.
So I think it's safe to say that Australian Customs isn't perfectly watertight as regards even lasers with which you could beat a man to death.
But they sure confiscated the hell out of those cat toys of mine. Well done, lads!
The only even slightly rational justification for the new laws is that it's now possible for police to confiscate a laser from you if you cannot give a good reason for having it on your person. So the cops don't have to prove that this particular dork they just caught is the same one who was shining a laser at an air ambulance an hour ago, and can at least take his laser away even if they can't charge him with anything.
(Although the 1mW legal limit seems to mean they can charge you with a serious offence just for owning almost any laser pointer. Does anybody know whether this has actually been done yet?)
But even if you feel that this particular security-versus-freedom trade-off is a fair one, it doesn't justify stopping everybody else from even buying a plain old $2 cat-toy laser.
I, for the record, do not believe this to be a fair trade-off. There are similar laws here in New South Wales covering knives; if you cannot give a good reason for having even a tiny Swiss Army knife in your pocket if challenged by a policeman, he can confiscate it. But it is easy to justify having any normal sort of pocket-knife, and I do not strongly object to confiscation of a steak knife from some goon wandering around outside the cinemas on George Street in Sydney on a Saturday night, whether or not he's actually suspected of doing or intending to do something bad with it.
I don't think the knife laws have actually achieved a damn thing, but I also don't think they're a great assault upon our freedom, since all they really do is increase the number of ways a policeman can make your life miserable, if he chooses, from a million to a million and one.
The NSW laser ban, in contrast, is an excellent example of the new wave of arbitrary, fear-based laws to Protect the People from the Movie-Plot Tactics of the Scary Domestic Terrorists who Don't Actually Exist.
The practical results of the ban, despite the outrageous classification of harmless tiny lasers as being like flamethrowers, appear to be mundane and minor; nobody's being hauled off to be tortured in Syria over possession of Laser-Guided Scissors.
But I think the mundanity of the ban is what makes it a particularly good example of the Death by a Thousand (Laser-Guided Scissor!) Cuts that's being suffered by the civil liberties of citizens of Western nations.
One little thing after another's being taken away, none of them a big deal by themselves. Day by day, it further restricts the kind of life that's legally permissible, and makes us more and more accustomed to living in this slowly-tightening straitjacket. The idea is to make us all keep our heads down and do anything and everything we're told, lest we slightly annoy a policeman and then actually be charged with some of the new and ridiculous "crimes" which we cannot avoid committing.