From the local fishwrap: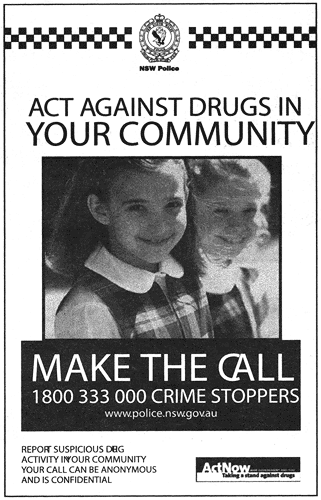 "The New South Wales Police: We Can't Even Get Kerning Right."
("Oh, man... I was sooooo high when I made that ad. Look, it's all screwed up, man! It's hilarious!"
I particularly like the new letter

. It should be the logo for a New York rave, or something.
I am also intrigued by the choice of the picture of two adorable little girls.
Are we to presume that little girls are being called upon to stop messing around with dolls and step up to do their part in the War on Some Drugs?
Perhaps dealers are using them as runners. Who'd suspect little girls in school uniform?
(You would, citizen, now that you've seen this ad!)
No, wait! Perhaps there's a way to turn little girls into drugs!