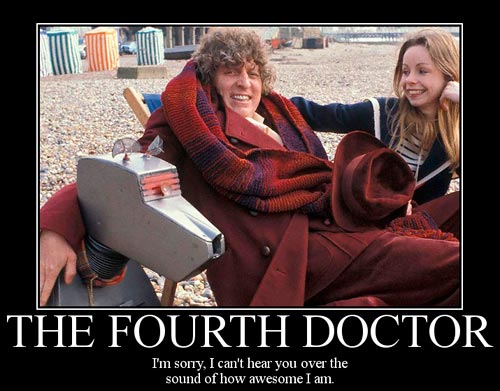 Why did this not already exist?
(I'm not counting this, which is obviously inferior. This, however, is brilliant. I found the source image on the BBC's K-9 wallpaper gallery. Please leave a comment if you make a prettier version.)
I think the original Captain Kirk version - which can be motivational or demotivational depending on which way you look at it - is one of the finest ever made. But, c'mon, if it came to a fight Jim would find it pretty hard to captain that starship of his, what with his grandfather never having met his grandma.
(In case you don't spend a lot of time on teh internets, and this is all Greek to you: The Despair Incorporated Demotivators became a lolcats-like DIY phenomenon a while ago, and now there are about a billion of them, often riffing on previous efforts. See this one, for instance.)
I made the poster with the despair.com Motivator, which looks suspiciously similar to the Big Huge Labs Motivator. I presume one of them licensed, or ripped off, the other.
See also:
Listening to 185 different versions of the Doctor Who theme,
And this.
I also once reviewed a book of pictures of kittens.