On the subject of objects that look like alien technology, I've got a Piet Hein "Super Egg" drink cooler, too.
I got it at a decent discount when ThinkGeek were clearing their stock; they don't have them any more, but the cooler and umpteen other "superellipse"-shaped products have been on sale from various overpriced homewares places for decades.
The superellipse is like a hybrid between synthetic-rectangular and natural-circular, as explained in this Scientific American article, which was written by the inimitable Martin Gardner more than forty years ago (I just re-read Fads and Fallacies the other day).
And Mr Hein had a real bee in his bonnet about superellipses. He designed superellipse-shaped salt-shakers, bowl sets, candlesticks, plates... you name it.
(Sorry about the stupid window-within-a-window thing in the piethein.com links, by the way; that's just the way that site works.)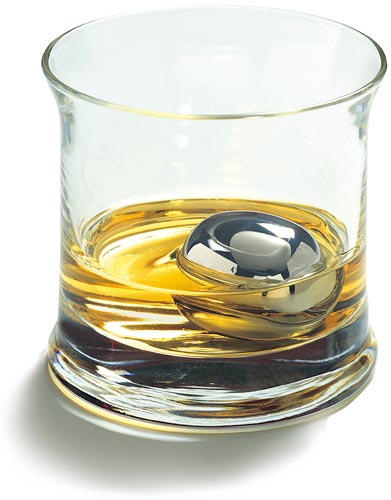 Despite all the folderol in the Super Egg drink cooler's rather tongue-in-cheek instruction sheet, as far as I can see it does not actually seem to be very good at cooling drinks. The enthalpy of fusion of water ice is hard to beat; a little stainless-steel egg with a mysterious liquid inside just can't achieve much, unless you chill it so far that it'll crust itself up with ice after you put it in your glass.
But it's nonetheless a neat little object, being both geometrically interesting and mysterious-sounding, on account of the liquid that sloshes around inside when you shake it. And it does indeed neither dilute your drink, nor change its flavour in any other way.
(Many sites say the liquid inside the cooler is meant to freeze, but I don't think that's likely to happen at home-freezer temperatures. Perhaps that's what you have to do to get the cooler to work properly.)
Uri Geller was, apparently, given a gold Piet Hein cooler by John Lennon, who (Uri says) spun a brilliant tale about how the object was given to him by bug-faced aliens.
I suppose it's possible that Lennon had a weird hallucination (in this case, possibly even without chemical assistance...), then found the drink cooler lying around.
I prefer, however, to think that Lennon knew exactly what the mysterious object was, and was just taking the piss out of Uri.