Holy crap! You can get a CPU cooler that moves heat by pumping a sodium/potassium mix!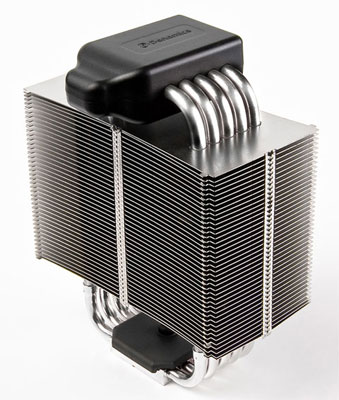 And here it is: The Danamics LM10, recently reviewed by NordicHardware. It certainly makes the old TS Heatronics Zen CPU Radiator look boring.
The sodium/potassium mixture, called "NaK" from the chemical symbols of the elements, can have a melting point as low as -12.6°C. So it's not incredible that you can use it to cool a PC processor. NaK isn't even very difficult to pump, partly because it's less dense than water. It's highly electrically conductive, so the Danamics cooler shifts it with a non-contact electromagnetic pump.
But NaK is usually used as a coolant in nuclear reactors, not PCs. When you only want to move CPU heat to room-temperature air via a pumpable coolant, and how that coolant interacts with fast neutrons is not very important to you, then about all you can say for NaK is that it's better than mercury.
As the NordicHardware reviewer points out, the high specific heat capacity of water makes it the obvious choice for this application, and many others. Water is streets ahead of every other inexpensive liquid for most coolant applications.
And water also has the advantage that it will not explode if it's ever exposed to even dry air. You can't say that about NaK. (Don't even ask about NaK and moisture.)
The gripping hand, though, is that there's very little reason to make a CPU cooler that uses pumped liquid coolant, unless the coolant is being pumped to a large separate radiator. This is how normal PC water cooling systems, and automotive water cooling for that matter, work; using pumped coolant allows you to have a radiator much larger, and more conveniently located, than you could if all of the cooling fins had to be strapped straight onto the CPU, or engine.
(Sodium has a role in automotive cooling too; some engine valves are hollow, and sodium-filled.)
If all you're doing is moving heat to the fins on the top of a CPU cooler, though, you can just use solid metal and/or heat pipes, because the mountain and Muhammad are pretty much in the same place already.
Years ago, I looked at a water cooler that worked in this way. It was pretty useless. The LM10 is much better than that; NordicHardware concluded that it did at least work about as well as a high-end conventional air cooler.
But the LM10 costs 2,199 Danish kroner, which as I write this is $US375. You can get a whole good-quality CPU water-cooling rig for about a hundred bucks less than that, and top-end conventional coolers are of course far less expensive.
But conventional coolers won't make your computer explode if someone hits it with an axe.
So I suppose the choice is yours.