This post on the Greater City: Providence blog is excited about LED street lighting. It links to this post on Red Green and Blue, about an LED-street-lighting pilot program in New York, which mentions that they're apparently replacing high-pressure sodium lamps with LEDs.
That doesn't seem like a very good idea to me.
LED street lamps could work very well. But the numbers don't look good yet.
I can believe the part where the Greater City blog quotes ScienceDaily as saying "If all of the world's light bulbs were replaced with LEDs for a period of 10 years...", vast amounts of power could be saved.
But that's talking about replacing incandescent-filament light bulbs, whose luminous efficacy - amount of light produced per watt of power you put into them - is miserable, down around 17 lumens per watt.
Almost no street lights use incandescent bulbs, for exactly this reason. Instead, street lights use fluorescent tubes and gas-discharge lamps of one kind or another - often low-pressure and high-pressure sodium vapour lamps. The NYC pilot program is replacing high-pressure sodium lamps with LEDs.
Low-pressure sodium lamps are highly recognisable, because they output monochromatic orange light. Single-colour light like that only lets you see the world in shades of orange (in other words, its colour rendering index approaches zero), but you get a whole lot of light per watt - up to 200 lumens per watt.
High-pressure sodium lamps give white light with reasonable colour rendering (though their spectrum is still a long way from being smooth). They can have luminous efficacy as good as 150 lumens per watt.
And then there are fluorescents. Fluoro streetlights generally use the highest-efficiency fluorescent tubes in existence, which are the "triphosphor" tubes whose output has a distinctive greenish-white look. (This is why anywhere lit by cheap triphosphor fluoros, like warehouses and public toilets, will make people look zombie-ish.) Triphosphor is close enough to white for government work, though. Triphosphor fluoros manage about 100 lumens per watt.
So existing, common, street-light technologies have luminous efficacy ranging from 100 to about 200 lumens per watt.
Thus far, white LEDs have managed about 100 lumens per watt.
Only a few years ago, the best white LEDs were only achieving about 25 lumens per watt, the same as halogen incandescent lamps. There's been a lot of market pressure to create better white LEDs, and the technology is leaping ahead.
But this doesn't change the fact that if you switch all of your fluorescent street lights to LED now, you'll save no power at all. If you switch discharge-lamp street lights to LED, you'll use more power to get the same illumination.
The one fact about LEDs that everybody latches onto, which leads to things like that Greater City post, is that many LEDs need very little power to operate. A normal 5mm white LED will work very nicely from a twentieth of a watt.
But a 5mm white LED also outputs very little light, by street-light standards. And LEDs are not magic hyper-efficient light sources; they waste energy as heat just like every other kind of lamp. It's just that it's hard to notice that wastage, when the total lamp power is only a twentieth of a watt. So people often seem to think that LEDs waste no power, and must thus be the best light source in the world.
To be fair, LEDs do have one unique advantage over all conventional lamps: They're inherently directional. The light comes from a little metal pit inside the LED, and it comes out of only the top of the pit.
This means that it's quite easy to make an LED lamp that throws light in only the direction you want it to, with no efficiency-sucking reflectors or wasted light shooting up into the night sky to pollute it. So the effective luminous efficacy of an LED lamp, for street-lighting purposes, may be higher than its raw efficacy number might suggest.
I presume it's this fact that makes the NYC pilot program worthwhile. The Red Green and Blue piece mentions that "the light footprints can be tailored for parks, street corners or mid-block", which implies that they're replacing sodium-vapour lamps with an unnecessarily wide throw with LEDs that light up only what needs to be lit. If this is the case, then even replacing 150-lumen-per-watt sodium lamps with 100-lumen-per-watt LEDs could yield a net improvement. Even if you just want the usual round-pool-of-light, a well-designed LED luminaire could work just as well, if not better, than a technically-brighter vapour lamp.
But LEDs are not, yet, the slam-dunk winners that so many people seem to think they are.
Here's another problem: White LEDs wear out.
Nobody's yet made a "native" white LED. All white LEDs so far are actually blue LEDs, with a phosphor layer over the blue die that eats some of the blue and emits the other colours needed to create light that looks white. And the phosphor slowly burns out and becomes opaque, which reduces the LED's brightness.
There's seldom a clear point where a white LED "dies", but you shouldn't expect street-light white-LED lamps to last more than a few years. Fluorescent tubes will probably need replacing more often - and they really do die, not just get dimmer and dimmer - but fluoro tubes are very cheap. I suspect the value-for-money difference between LED and fluorescent in this case would hinge on how much it costs to send people up ladders to change the lamps.
One solution to the white-LED-lifespan problem is to not use white LEDs, but a combination of red, green and blue coloured LEDs. They should last far longer...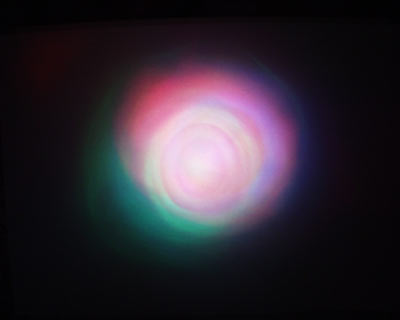 ...and can decently approximate white light.
They have higher luminous efficacy, as well. Coloured-LED luminous efficacy hasn't been improving nearly as rapidly as white-LED efficacy has, but an array of red, green and blue LEDs should still be highly competitive, in lumens-per-watt, with other street-light lamp types.
(This is also why LED traffic signals work so well. LEDs can natively emit red, amber or green light, and you want a traffic signal to be directional, too. LED traffic lights are just hilariously better, in every important respect, than the old type, which uses low-efficacy incandescent bulbs with coloured filters in front of them that eat most of their output.)
The Greater City: Providence piece dreams of street lights that use so little power that a solar panel on top of each light can charge it up with all the power it'll need to work all night.
That, I'm afraid, is going to remain a dream for some time yet.
Yes, cheap LED garden lights work that way. But if you scale them up and put them on top of a pole, you'll either need an outrageously large solar panel, or have to settle for a very dim street light.
LEDs are not a miracle product for street lighting.