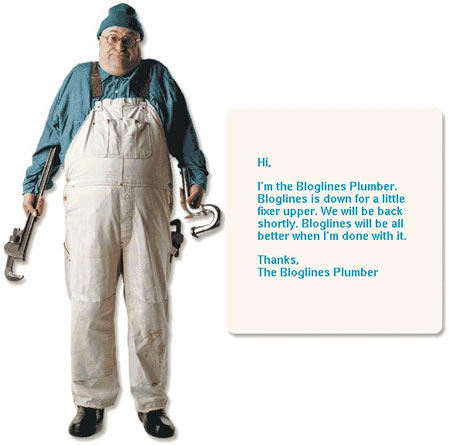 I was trying to figure out why, for the last few days, Bloglines has frequently failed to notice when I've read something from one or another feed. Four times out of five, the next time it checked for updated feeds it was re-adding all of the stuff I just read.
Well, I found out why this was, and I also found that this wasn't the half of it. It turns out that Bloglines is also now just completely ignoring many feed updates. So you get to read some stuff over and over, while missing out on other stuff entirely. Awesome.
So, finally, it was off to Google Reader for me.
(Migrating to Google Reader is quite easy, if your current feed aggregator doodad can export your subscription list in OPML format. This, fortunately, is something that Bloglines has not yet forgotten how to do.)
I've been using Bloglines since 2003. Apparently Mark Fletcher, the guy who started the site, sold it to Ask.com (where he later took a job) in 2005, and they've now pretty much just left it to rot on the vine. (To the point that even Fletcher's sick of it.)
I was happy enough with the Bloglines interface, and it's still got a couple of features that suit me better than Google Reader does. But only if it, you know, works. Which it doesn't any more. Oh well.