A reader writes:
My CPD-G500 is getting the twitches and I fear it will soon slip out of usable duty. I work in Photoshop and Illustrator and Motion and After Effects, I also edit with Final Cut Pro (where the twitching is getting most noticeable - the image twitches and folds at the bottom of the screen.

I would like you to tell me what you finally decided was the best CRT monitor. I'm not sure how you feel about LCD screens but I can't work on them, they feel slippery, tricky, I don't believe what I see and don't trust it at all.

I've been checking CRT monitors for sale on the Web, and of course end up at eBay. There are 19- and 21-inch monitors that I've looked at, only one Sony G500, no G520, and there is a 19-inch G400 but it's in Melbourne and I'm in Sydney; a long way off for a drive to pick it up.

What do you think I might do?

Philip
Your twitching-and-folding image is probably fixable, but you'd need to find a good old-fashioned CRT TV repair guy - they're a dying breed - to get it done without delving into the realm of high tension with your own uneducated hands. Working with one hand behind your back helps, but CRT repair really, really isn't the right place to start applying what you've just learned from repairfaq.org.
Occasional image "twitching" is a classic dry-solder-joint or failing-insulation problem; a little re-soldering and the slathering of some neutral-cure RTV silicone sealant over the old, cracking insulation on the high-tension cable to the side of the picture tube is likely to cure it. The "folded" image sounds like it's just an image positioning problem, which is another thing that can be down to components wearing out (electrolytic capacitors changing value, for instance), and which may be fixable with trim-pots on the board or something similarly simple.
All CRTs will die eventually, though; they naturally get darker and darker as the years go by, and eventually the brightness control can't compensate. A standard old-TV-repair-guy trick is to wind up the electron-gun voltage on old CRTs; that'll make them die even faster, but will at least give you a decently bright picture again.
If you're determined to get yourself a new CRT, I think you're going to find your choices constrained by what you can get (without paying $1000 for shipping from overseas...), rather than what actually is the very best CRT for your purposes. So what-to-buy recommendations from me would be of limited practical value - and I never really used enough different kinds of CRT to have very strong preferences. But, for what it's worth:
1: Aperture-grille tubes (Sony Trinitron, Mitsubishi Diamondtron, ViewSonic Sonictron...) are brighter than shadow-mask, and many people prefer them. But aperture-grille computer monitors always have horizontal vibration-damper wires for the grille that cast a noticeable shadow...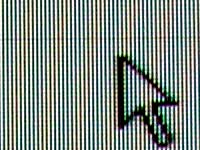 ...across the screen. One wire for small-to-medium tubes, two for 21-inchers, possibly even more for aperture-grille TVs. This is one of those things that many people aren't annoyed by until they're told that it exists, then can never stop seeing. You need not thank me if I've just ruined aperture grille for you.
(People seldom notice this problem in aperture-grille televisions, because unless you're sitting ridiculously close to the screen, you won't be able to see them.)
2: Samsung's mainstream CRT monitors were always good quality (not the best possible quality, but good enough for almost any purpose), reliable, and excellent value. I don't know whether they ever made a flat-screen 21-incher, though.
3: The gripping hand is that the big names just don't make many CRT monitors any more. As you say, you can find second-hand CRTs here and there, but they're unlikely to be a whole lot younger than the one you've already got.
I've poked around on the monitor-manufacturer sites - Sony, NEC, Philips, Samsung and so on - and it's surprisingly difficult to even find product pages for CRT monitors these days, much less CRTs that're still on sale. Every now and then there's a couple of old 17-inchers still being sold in South Africa, Bangladesh, Montenegro or India, but if you're in the USA, Australia or most of Europe, you're out of luck.
ViewSonic still have a few CRTs, but I think they top out at a 19-inch unit. Lenovo have a relatively cheap 19-incher, too, currently on special... in Canada.
And these are all plain old consumer monitors - higher-spec ones for graphics work are ever rarer. Eizo, for instance, used to have a lineup of hooded CRTs that came with a calibrator, but they seem to only have LCDs now.
And just finding a company that still makes CRTs is only half of the battle. Let's presume you've decided that, say, this 20-inch-viewable-diagonal LG looks good. Now you have to find a dealer that still sells them. Which, so far as I can tell, nobody does.
Any decent computer store will be able to order in pretty much any product from a company that has a distributor in your country, but the demand for CRTs is so minuscule now that there could easily be zero stock of whatever you're asking for in Australia, so you'd have to take the absurdly-expensive corporate-procurement route to lay your hands on one, or buy some dedicated video-preview screen with more sockets on the back than you ever thought possible; such units have list prices that range from the merely alarming to the downright hilarious.
(Note that there may be a heap of new-old-stock CRTs sitting in some dealer's warehouse or self-storage unit, which they'd be glad to unload. It can't hurt to ask. Just don't get your hopes up.)
If you were in the USA, you could find tons of dealers still selling CRTs of one kind or another. A lot of them are definitely not what you're after - tiny little screens, monochrome monitors for ancient computers or digital X-ray systems, workstation monitors with funny plugs and/or fixed scan rates, $100 monitors that cost at least $80 to ship, used screens sold as-is, "special order" items that may not actually be available any more, and of course a cavalcade of weird-branded Chinese products that're probably junk. But there are some real, well-reviewed dealers selling real, new CRTs, and if you were in any major city in the USA it'd probably only take you a few hours of fossicking to get one delivered for a reasonable price.
But you're not in the USA. So you may find yourself having to join us LCD-monitor pod people.
Fortunately, I really don't think there's any objective reason for your mistrust of LCDs, any more.
Many mass-market LCDs are still not as good as mass-market CRTs for really colour-critical work, but almost nobody is actually doing that sort of work. If your CRT needs to have one of those light-blocking hoods over it and you recalibrate it once a month, then you probably do need another CRT. If not, though, then any LCD that doesn't have a cheap narrow-angle 6-bit twisted-nematic panel in it should, today, be more than good enough for almost any purpose. You'll need to colour-calibrate it to get accurate colour response, but you need to do that with CRTs anyway.
It helps to have a CRT on hand for video editing, so you can see how your video wizardry looks with classic fuzzy pixels. But unless your target audience for some reason includes a lot of people still using old CRT computer monitors, the preview CRT you'll want will be a television (probably connected via composite), not a computer monitor. There are still tons of CRT TVs in daily service around the world, but cheap and nasty Dell PCs have been coming with LCD monitors as standard for long enough that I think CRT monitors are probably in the minority now, in affluent countries at least.
A lot of mass-market LCDs have somewhat "cartoonish" default colour reproduction, with weird colour temperature and over-response that gives a "punchy" look, like that from cheap digital cameras. That's fine for happy-snap photography and playing games, but it can give weird results for graphics work. You can fix it very easily with even a cheap colour-calibrator, though; the Pantone Huey and one or another ColorVision Spyder (like the one I reviewed years ago) can be had for less than $US100 now.
It's entirely possible that someone reading this is in Sydney and has a 21-inch CRT mouldering in the spare room that Philip might like; if so, drop me a line and I'll pass your info on to Philip. If you know of a great source of well-priced decent-quality CRTs in Australia or elsewhere, do post a comment about it!