We all know what YouTube comments are like.
Exactly which site boasts the Web's stupidest commenters is a matter for debate, but YouTube is unquestionably right up there.
You can try to ignore the comments on YouTube; if you've got a small enough browser window and don't page down, you may be able to avoid seeing them altogether. You can also tell YouTube to only display comments rated "excellent (+10 or better)" until it forgets you're logged in or the cookie's cleared or whatever. I think that setting leaves a grand total of about eight comments visible on the whole site.
One way or another, though, most of us at least catch a glimpse of YouTube comments, out of the corner of our eyes, from time to time. Sometimes we even look there on purpose, for the same reason people look at other such... things. Every glance corrodes your faith in humanity a little more.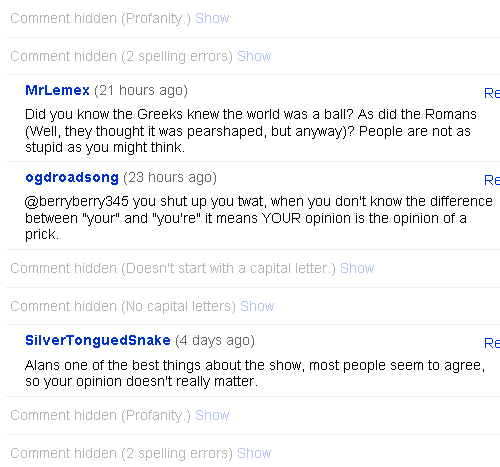 May I, therefore, suggest the Firefox add-on YouTube Comment Snob?
It ain't perfect, but it's fighting the good fight.
There are a few Greasemonkey scripts that do similar things. YouTube Comment Cleaner, for instance, and (as I write this) three scripts that replace comments with quotations, including one that hybridises with YouTube Comment Snob, replacing any comments the Snob blocks with quotes from Richard Feynman.
The Comment Snob options...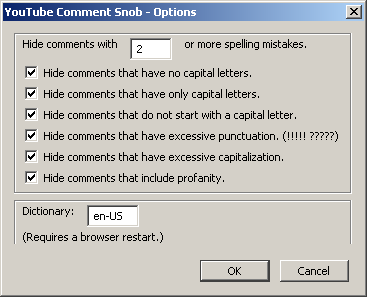 ...remind me of the old Microsoft Word Hidden Settings joke:
By default, Comment Snob doesn't block comments that include profanity, which of course is not necessarily an indicator of a lack of intelligence.
Except in fucking YouTube comments.