A quick update on the subject of the Secret Life of Machines series...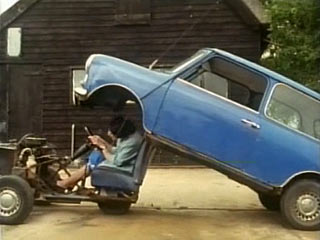 ...which, for the information of newcomers, is
1: fantastic,
2: legal to download for free, and
3: large.
A couple of years ago, I made a torrent of a high-video-quality version of this excellent science series, which total 3.3 gigabytes.
Of late there have usually only been one or two seeds for the torrent, though, and one of them is me, and my little home DSL account can only upload at a peak speed of about 25 kilobytes per second. So it takes me a couple of days to send the whole bulk of the three series to someone (technically, it's two six-episode series of The Secret Life of Machines, plus one six-episode series of The Secret Life of The Office). And when the transfer finally completes, the recipient will then usually not bloody seed it.
So if you've still got that torrent sitting in your BitTorrent client, I'd be grateful if you force-seeded it for a while.
(A reminder for readers who're dubious about this, or protection-racketeers from one or another content company who're champing at the bit to send me a nastygram: Tim Hunkin, the creator and principal presenter of this show, wants people to download it for free. He makes this clear in many places, like for example his pages for the three series of the show. The shows are still copyrighted, but free distribution is expressly permitted.)
As I've mentioned before, you can help out with seeding even if you don't have the torrent in your BitTorrent client any more, provided you still have the files. (Which, by the way, are in the "M4V" iPhone format, are not nasty VHS rips, and are playable on all platforms; use VLC if you have problems.)
To seed if you've got the files but not the torrent, just get the torrent started as if you were going to download it again (so your BitTorrent client creates the appropriate download directory and empty files), immediately stop it again, copy the video files from wherever you've put them into the new download directory over the top of the new empty files, and then restart or "Force Re-Check" the download (depending on which BitTorrent client you have). Provided the files are the right ones for this iPhone-format version of the series, and have the right names, the download will now be 100% complete and you can force-seed it for a while.
Oh, and don't worry if your BitTorrent client says the download is only something like 99.8% complete, and it has to download a bit of data before it's "finished". That just means your computer has modified some header data in one or more of the files, so that tiny bit needs to be re-downloaded to overwrite the changes. It doesn't mean the files are corrupt.
(If you don't have a BitTorrent client at all but do have the files, perhaps because someone gave them to you on a thumb drive or something, you can also help out. You just need to install a client - µTorrent, for Windows and Mac, is excellent - and then do the starting-stopping-copying-and-then-seeding thing. The default settings for a freshly-installed BitTorrent client may stop it seeding after it's uploaded 200% of the data size of a torrent, or something; upload-ratio checking goes weird when you do the stop-copy-and-seed thing, too, because you'll have the whole download but won't have actually downloaded anything. Just right-click the torrent and select "Force Start" or "Force Seed" or whatever it's called in your client, to ignore upload limits.)
Here's a magnet link for the Secret Life of Machines torrent. (You may need to associate your BitTorrent program with magnet:... links to make this work, or manually copy and paste the link into an "Open Torrent..." dialog.)
You can also download the torrent file from isoHunt or The Pirate Bay - it was on Mininova, too, but they decided to go legit the other day and removed pretty much all of their torrents, including legal ones like this.
The BitTorrent community is moving away from .torrent files, just as it's moving away from trackers - The Pirate Bay have actually shut their trackers down altogether now. If you've got the little magnet URI for the download you want - it's ?xt=urn:btih:D62CLPSEYNRN74FRZDUC5GYVKTOOUKGE for the Secret Life of Machines torrent - then your BitTorrent client can use it to get other people who're downloading the same thing to send you the data that a .torrent file would have given you. This may take a little longer than downloading a torrent file would have, but it shouldn't actually fail unless there's nobody seeding the torrent, in which case you obviously wouldn't be able to download it anyway.
Once you've got the torrent info, the distributed hash table (DHT) system that all modern BitTorrent clients support can go on to give you the rest of the data from other users, without needing a central "tracker" system to keep everything organised.
And then, before you know it, you're watching Tim stand on the accelerator and the brake at the same time, and Rex brutalising that poor innocent refrigerator.
---
Tim Hunkin has done a lot of stuff since The Secret Life of Machines. Here's...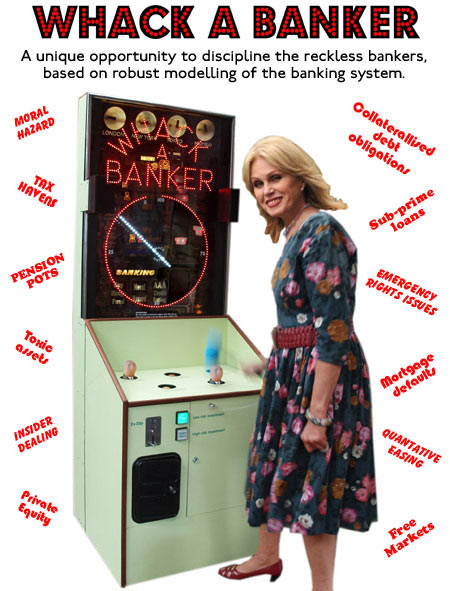 ...some posh bird enjoying the latest in Tim's long and inimitable line of penny-arcade amusement machines, "Whack A Banker".