There are two silly-sounding musical instruments whose names I keep forgetting. With any luck, this post will fix them in my memory.
The first one makes a sort of tinkling "sproing" noise, and the second sounds like someone squeaking a cleaning cloth on a drinking glass, or window. They're both surprisingly common - considering how weird they sound by themselves - in Latin music.
This much information wasn't quite enough, however, for Google to lead me directly to the answers. (Not the first time, and not either of the later times when I forgot again, and looked them up again.) But I got there in the end.
The sproinger, frequently heard in the sort of 1970s cop-movie music that opens with frantic bongo drumming, is called a "Flexatone", or "Flex-a-tone" to give it its full original 1920s-patent trademarked name.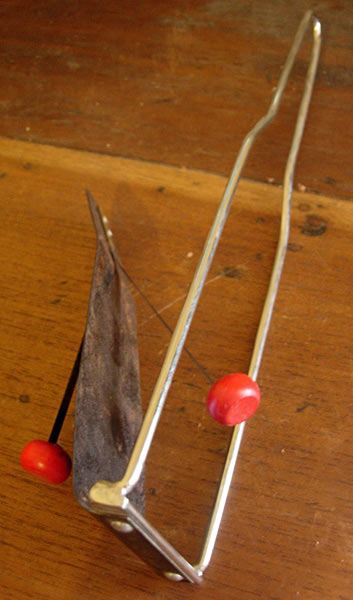 The Flexatone is as unlikely-looking a device as its sound (OGG audio sample) would suggest. It's essentially a percussion variant of the musical saw; the Wikipedia article explains how it's played.
A "genuine" Flex-A-Tone will set you back at least $US26.99 (or $US34.50, for the deluxe version!). But this eBay seller has, among a variety of other instruments that look absolutely ideal for giving to the small children of people whom you do not like, a "Flexitone" for only $US24.99 delivered within the USA, or $US33.99 including delivery to Australia.
Speaking as a man who already owns a siren whistle (not nearly as good as the expensive Acme version), a melodica and two Stylophones (the old analogue type, of course), I can't say I'm not tempted.
[UPDATE: I just noticed that a Flexatone is part of the striking apparatus of one of Tim Hunkin's ramshackle clocks! It's featured at the start of the quartz-watch episode of The Secret Life of Machines.]
And then there's that rubbing-glass-sounding drum.
It's called a Cuíca, and it actually is played by squeaking a cloth on something. There's a stick inside the little drum, anchored to the middle of its single head. You rub the stick with a damp cloth to play the instrument, and alter pitch by pressing on the outside of the head with your other hand.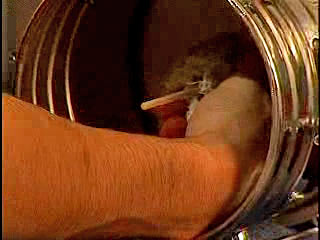 Here's a 4.6Mb video tutorial, which makes clear that certain jokes about the motions involved...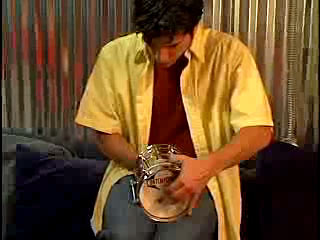 ...are far, far too easy to be worth making.
The Cuíca is also known as a "laughing gourd" or "laughing drum" (not to be confused with the various kinds of talking drum). That's a fairly straightforward name, which made the Cuíca easier to look up than the Flexatone. Many other novelty instruments also have names deducible from their sound, like the humble "slide whistle", here demonstrated...
...in Ben Cowden's inimitable "Wayward Calliope" (via).