From Modern Mechanix: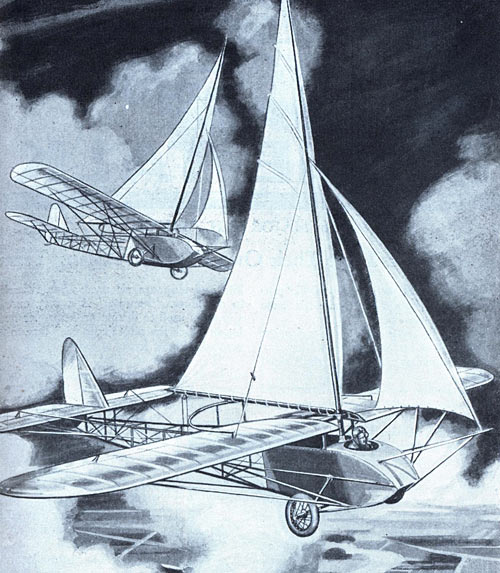 Yes, these things are exactly what they look like. And when the design was tested, no, it didn't work. You can't power an aeroplane with a sail.
"Common sense", whatever that is, says it's impossible to make a sail-powered aeroplane. And common sense is right.
But if your vehicle has a connection of some sort to the ground, or water, it is eminently possible to sail faster than the wind. Tacking sailing ships do this routinely. Common sense doesn't say that's impossible, unless it's the common sense of someone who's never seen a boat race.
But common sense most definitely says that sailing dead downwind, with the wind exactly at your back, cannot be done faster than that wind is blowing. Obviously, whether you're in a boat or in a land yacht (meaning a wheeled vehicle propelled by the wind, not a '71 Impala), when your speed and heading relative to the ground or water are the same as the wind speed and heading relative to the ground or water, there's no more energy to be harvested and you can't go any faster.
In this, common sense is absolutely wrong. A land yacht certainly can sail downwind faster than the wind.
The fastest one to do so thus far is called Blackbird, but there are others:
What all of these yachts have in common is a large propeller instead of a sail, and the prop has a drive connection to the wheels. Common sense says this won't make a blind bit of difference to anything, but it does.
There have been some rather nasty arguments between people who know that this cannot be done and people who, as per the old saying, should not be interrupted because they're busy doing it. Enjoy the comments here, for instance, if you'd like to consume rather more than the recommended daily intake of flame-war.
At this stage, anyone who still objects is in the position of a person in 1910 who still insists that aeroplanes are impossible on the grounds that he, personally, hasn't yet seen one flying.
(Although, to be fair, some of the land-yacht runs are alleged to have been made on the dry bed of Ivanpah Lake. I've been there in Fallout: New Vegas and it's clearly not nearly big enough for any such activities.)
Common sense is, in general, immensely useful. It's what tells you that, when you want to cross the street and see a car coming, you shouldn't just step out in front of the car, even if you've never subjected this belief to empirical testing by walking out and seeing what happens.
But common sense, like memory and even perception itself, is unreliable. Common sense only works on things that it's worked on before, and the only way to expand your common sense to deal with new concepts is by making those new concepts fit into some part of the existing framework. Expanding your common-sense framework to accept genuinely new ideas is possible, but it doesn't happen automatically.
If you're trying to figure out whether to step out in front of a type of oncoming car you've never seen before, the common-sense shortcut will work. But if you're trying to understand some new, counter-intuitive physical oddity like these land yachts, common sense will fail you miserably, just as it so often does when people try to think about tax brackets or daylight saving, and on the rather fewer occasions when people try to think about aeroplanes on conveyor belts.
I don't think all of the people who got into shouting matches over the downwind-faster-than-the-wind idea were just emotionally invested in a position they'd not thought about at all, as is so often the case in, say, political arguments. The physics involved is decidedly non-obvious; that, plus Sayre's Law, could account for the whole kerfuffle. And this new development doesn't seem likely to revolutionise land transportation, or anything else.
The next time you're inclined to take a common-sense view of some new idea that actually matters, though, try to bear in mind that common sense also says that the world is flat and the sun goes around it.