I wrote, in 2010, about the miraculous Keseco Current Improvement System. It's a power-saving device that's claimed to work because of, in brief, technologies unknown to science.
I like this kind of power-saving box. Most power-savers are claimed to be some sort of power-factor corrector. Ones like the Keseco devices that're supposed to work by "rotating electromagnetic waves" or "non-Hertzian frequencies" are more fun. They still don't work, but at least they're more original.
When I saw a new comment on the Keseco post today, I presumed it'd be one of the spammers who occasionally get through the net and spray ads for handbags or wristwatches all over my old posts.
I was wrong, though. It was this:
We are representing Ultra device, made by Keseco in EU market.
We do agree that claims to achieve superconductivity in wires seem to be unrealistic. And we partly agree with that. However we confirm that we have tested Ultra in various cases: domestic and industrial. We have used Chauvin Arnoux ca 8335 power analyzer to measure w,kva,kvar,Amps, U, harmonics, cos fi, etc. We confirm that Ultra device really works in reducing active power, reactive power, slightly improving cos fi.It reduces total consumption by 5-12%. The saving % depends on a number of factors.It does not turn wires into superconductors, but reduces energy loses in them.Detailed reports can be send upon request. Currently Keseco obtained SGS, TGM reports on saving. The patent they have for energy saving device is real.It is not for design, it is for energy saving.See: http://www.wipo.int/patentscope/search/en/detail.jsf?docId=WO2003061097&recNum=1&docAn=KR2003000104&queryString=AN:PCT/KR03/00104&maxRec=1 . Ultra device really saves energy For more information on research works we have done with ultra,please, send request to :info@energita.lt.
If it's all the same to you, unnamed Energita representative, I'll just wait for this miraculous device to make you the billions of dollars you so richly deserve. Then I'll be able to learn about it from, say, the paperwork for the Nobel Prize the Keseco designers have won, or the sticker on the side of the Keseco box that I, like everyone else in the world, will have purchased.
Just look at that patent. It's for a box...
...with some busbars in it, the busbars only being connected to power at one end, and the inside of the box provided with some mysterious ceramic coating and "conductive plates" that aren't electrically connected to anything.
And that's it.
Conventional electrophysics says that this box, plugged in parallel with household mains power, will do nothing. It's not even part of a circuit.
You allege that you have real evidence that it's a power saver.
So now all you have to do is send these patented boxes to universities, technical colleges and appropriate governmental bodies until someone takes notice, and then here comes all that money and that definite Nobel Prize, for the staggering discovery of how "rotating electromagnetic waves" make the magic happen.
(Or the people who invented it could, after patenting their discovery, have written it up as a scientific paper. Get it published and the results replicated, then sell licenses, and you could become billionaires without having to actually manufacture anything at all.)
You'd think that in the several years the Keseco device has been around, they'd have managed to do this. But instead, just like every other magic power saver or magic gasoline pill, the devices are sold piecemeal to whatever end-users can be persuaded to buy one.
Electrical components that aren't connected to anything are strangely popular in scientifically... novel... devices and talismans.
Inside the "EMPower Modulator", for instance...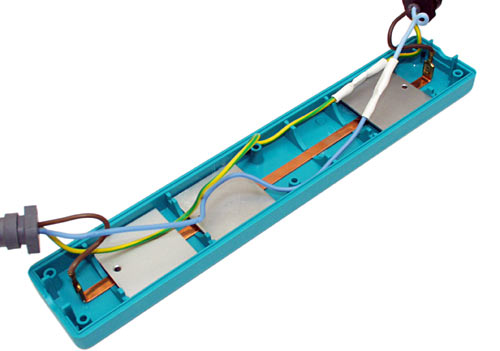 ...are three aluminium plates that aren't connected to anything.
...is similarly electrically innovative. And now we've got this Keseco box-of-nothing, too.
Energita sell a few other odd devices (machine-translated English version).
This power-monitoring system (translated) seems kosher, as do these light bulbs (translated), and I think this gadget (translated) may be OK too; it seems to be some sort of improved thermostat for freezers.
But then there's something called a "Fuel Activator" (translated), magnetic fuel improvers (translated) and, of course, the Keseco doodad (translated).
I'm never sure what to think when someone who sells these sorts of products remonstrates with me. I presume they quite often, especially when they're a reseller instead of the originator of the product, actually believe what they're saying. They're seldom abusive or clearly mentally peculiar.
There but for the grace of critical thinking, I suppose.