I'm going to let you in on a little secret, here.
I don't use toothpaste.
Ever.
I was turned off the stuff by the dental-health people who came to my school when I was a wee 'un. They told me to brush my teeth with the ghastly gritty super-minty high-fluoride toothpaste they always brought with them, I begged them not to, they made me anyway, I vomited copiously, and that was the end of toothpaste for me.
Heck, for many years I didn't brush my teeth at all.
You may, at this juncture, be imagining the plausible results of this refusal, on my part, to allow society's frivolous protocols to take precedence over my personal values.
My mouth, you will be surmising, must be a steaming, mangrove-covered bayou, occasionally punctuated by by plopping mud-bubbles and shattered, gravestone-like, lichen-encrusted teeth.
I do not blame you for jumping to this conclusion, for it is perfectly reasonable. That was certainly the response of the dentist I visited, for the first time in at least ten years, a while ago.
But, as the dentist and her similarly terrified assistant immediately discovered, my teeth are actually just a bit yellower than the average.
Every one of 'em was there, not a one had a hole in it.
And my breath didn't, and doesn't, smell.
This is because, as that dentist cheerfully confirmed for me after she regained her composure, brushing your teeth is the least effective way of cleaning your mouth.
Brushing your teeth isn't useless, especially if you're thorough about it and do use fluoride toothpaste. But the danger spots in your mouth are between the teeth, where food particles accumulate and feed colonies of bacteria. And if you want sweet breath but only clean your teeth to get it, the similarly-flourishing colonies of bacteria on your tongue will start stinking up your exhalations again as soon as the masking smell of the toothpaste dissipates.
So what dark rituals was I performing, to escape what countless jaunty animated toothbrush mascots have insisted is the inevitable consequence of not scrubbing your teeth with minty froth?
Well, I floss pretty regularly, and also clean properly between my teeth very regularly. I do that now with Piksters "interdental brushes", which are, essentially, tiny tough pipe-cleaners for the gaps between your teeth.
And to avoid smelly breath, I clean the top surface of my tongue, every morning. There are many purpose-made doodads for scraping your tongue; plastic ones cost almost nothing, so you might as well give them a go. I've always found a straight scraper blade to be perfectly adequate, though; I use a little six-inch steel ruler.
Apparently if you use a tiny little scraper it can take three minutes to clean your tongue. My manly metal scraper would have pretty much removed my lower jaw by then. Yes, my taste-buds still work.
(When I stay the night at someone else's house, I have been known to use a butter knife. Not known by them, though, obviously.)
And... that's it. Keep the in-betweens clean, scrape the tongue, job done.
Not one filling, for 35 years.
I didn't avoid dentists because I had good reason to be terrified of them. I just didn't see the need.
And then I started taking a medication that reduces saliva production. And less than a year later...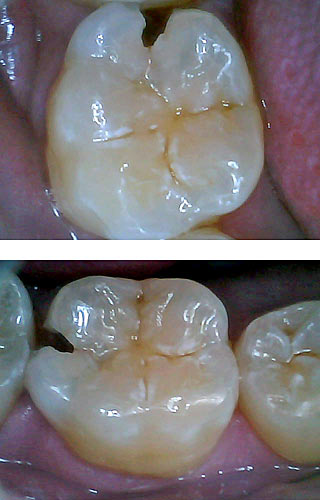 ...stuff was falling apart.
(That was my lower left first molar. I took the picture with the little USB endoscope which I reviewed some time ago, and which provided a surprising amount of later entertainment. Also, vaguely apropos of this, every kid who's starting to lose their baby teeth should be made aware of what a terrifying monster they now look like under the skin.)
Loss of saliva production is dangerous for teeth. Saliva actively protects teeth, and decay can progress much faster when you run out of spit.
This is part of the recipe for the "meth mouth" phenomenon, which can occur if you use any drug, like marijuana or the far-less-interesting medication that I'm on, which inhibits saliva production. All you have to do is habitually take such a drug, then treat your uncomfortable cotton-mouth with sugary and/or acidic fizzy drinks instead of something like milk or water (sugar-free chewing gum can also be helpful). Your teeth will then be rotting out of your head surprisingly soon. Especially if you also grind your teeth in classic tweaker style, and can think of a million very energetic things to do that are not cleaning said teeth.
Anyway, now it's a few years later again, and I've got a couple of fillings. But only a couple, touch wood.
I brush my teeth now, with one of those fancy super-fast circle-jiggling electric toothbrushes, but I still don't use toothpaste. Everything seems to be going pretty well.
But wait, there's more.
My previous interaction with a dentist, before the mysterious alien-implant thing, had been many years before, when my wisdom teeth were coming through. A bridge of gum-flesh remained over the middle, from the back to the front, of at least of one of them.
This is an absolutely prime spot for gunk to accumulate and start destroying the "new" tooth before it's even finished erupting. The bridge will normally separate on one end as the tooth emerges, if like me you're lucky enough to have a jaw that in clear violation of God's plan actually has room for wisdom teeth. But you'll be left with a little flap of flesh over part of the tooth, and probably also a pocket down the side, which is almost as bad. It's basically impossible to keep these areas constantly clear of nasty-smelling... gunk.
So I'd been making damn sure the rotten-ness didn't have a chance to take hold, by digging and flicking and poking at the area with whatever small pointy object came to hand. The wire in the middle of twist-ties did a dandy job of getting some nice cleansing blood flowing.
I was, and still am, delighted to say that this dentist, also, endorsed and encouraged my bizarre oral-hygiene activities.
("Oh," I hear some of you ask, "on the subject of your hatred of the taste of toothpaste - do you, in far-off Australia, have in addition to your bizarre pink candies the things which we foreigners call 'Spearmint Leaves'?" Why yes, gentle reader, we do. "And do they taste exactly like numerous dental concoctions described as having a 'pleasant mint flavour', which statement is just as much of a... it can't be a lie, it's more of a cruel joke, really... as the similar statements made on cough-medicine bottles?" Yes, they do. "And do Spearmint Leaves, also, make you want to heave?" Yes, indeed they, also, do.)