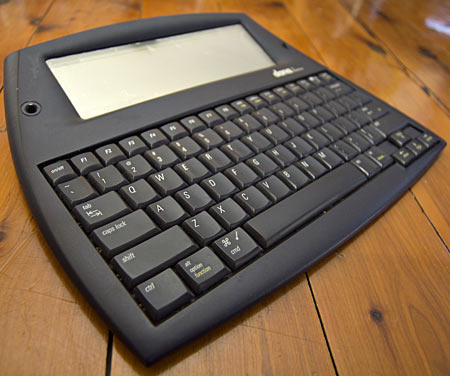 The Alphasmart Dana, which I've written about in the past, is about ten years old now. But it's still quite a brilliant little machine.
Alphasmart are in the portable-word-processor business. Every portable word processor back to the legendary portable TRS-80 has looked much the same; full-size keyboard, letterbox-slot monochrome LCD screen, and power usually from AA batteries, which last a startlingly long time.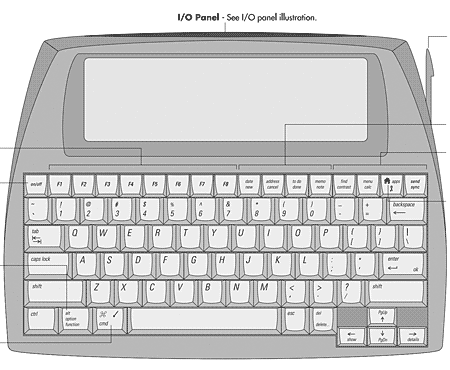 Most of these things run some sort of proprietary operating system and only have a few built-in programs that you can't change. The Dana is different, though, because it's actually a Palm III with a keyboard and a wide touchscreen. The screen is only 160 pixels high, like those old Palms, but it's 560 pixels wide. (It also has the standard Palm green electroluminescent backlight, which works well enough but eats batteries.)
Anything that'll run on a Palm III (or IIIx) will run on a Dana, but only specially tweaked programs will use anything but the 160-by-160 middle of the screen. The built-in word processor does, of course, use the whole screen, and makes a dandy note-taker.
Alphasmart made a Dana with Wi-Fi, but mine is the version that lacks it; it has IrDA, though, for what little that's worth. Transferring text to a normal computer really couldn't be easier, though. You can save files to an SD card and plug that into a PC reader, but all you actually need to do to shift plain text is plug the Dana into a computer via USB, whereupon it reports itself as a USB keyboard (like that footswitch thing). Then just make sure you're in some text-edity sort of program on the computer, and press the Dana's "Send" button, and it'll "type" out the contents of your document. No special software needed.
The "typing" isn't terribly fast, so this isn't very practical for transferring a large document. But for everyday note-taking and journalism and such, it's great.
[Update: If you've got a Dana but no software for it, I mirrored a few files, including the stock software bundle.]
Oh, and the Dana also charges through the USB cable. Danas come from the factory with a plugpack charger as well, but if you're often near a normal computer you won't need one. (Note that the Dana won't charge from a power-only USB socket, like you get on those gizmoes that convert mains power or a car cigarette-lighter socket into USB power.)
I was moved to write this post by three things. One, the Dana deserves to be more widely known. Two, there are currently quite a lot of affordable Danas on eBay, as we'll see in a moment. And three, I am avaricious. I'm signed up for eBay's Partner Network now, and so can get a few pennies when people click on my links to said Danas.
Here's an eBay search that finds, as I write this, fifteen Dana auctions, some of which have several units available. (The search is supposed to "geotarget" to international eBay sites, but doesn't seem to be doing it for me here in Australia, so here's the same search on eBay Australia, here on eBay Canada, here on eBay UK.)
This seller is probably the one you want. They currently have two multi-item Dana auctions running. This one has six units, without batteries or a stylus, for only $US19.99 each; international shipping would more than double this, but it's still a bargain. And this auction is for "more than 10" Danas, this time with a stylus but still without batteries, for only $US24.99 each. Presuming these Danas do actually work, you really can't go wrong for that price.
The lack of a battery is a bit of a nuisance. When new, you see, the Dana came with a rechargeable battery pack which sits in the AA-cell battery bay but connects with a little two-pin plug, not the contacts on either end of the battery bay. These used Danas don't come with that battery pack (because it's no doubt long since worn out), so the easiest way to power them is with three alkaline AA batteries.
You can run a Dana from rechargeable AAs as well, but it won't charge them if they're not connected like the original battery was. And, just as with the Palm III, taking the batteries out of a Dana for more than 30 seconds will cause the internal memory to go blank. (This isn't actually a big deal unless you've installed your own applications or saved stuff in the internal memory, as opposed to an SD card.)
I made a new battery pack for my Dana by soldering up three low-self-discharge NiMH AAs, and stuffing them into the battery bay. My three AAs with soldered-on tabs connecting them together are bit longer than the original battery, and wouldn't fit in the bay, so I did a bit of butchering that has made my Dana unable to run from normal AAs any more. (There is a better way I could have done this.)
But my Dana does charge via USB, which, I repeat, is really neat. As is just about everything else about this thing. And if you don't want to monkey around with battery-pack building, you can just chuck some alkalines in it and go.
(If you'd like to know more about the Dana, you can download the PDF manual from Alphasmart here.)