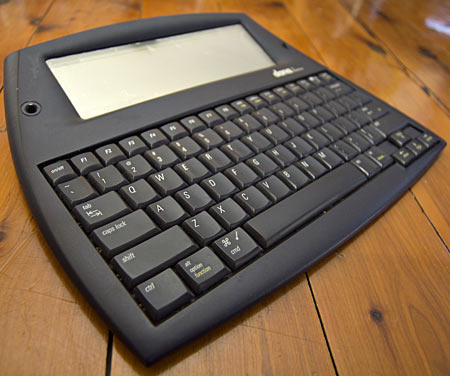 Commenter Fallingwater pointed out here that it's now rather hard to find CardTXT, the simple word processor that uses the whole width of an AlphaSmart Dana's screen. He recreated it and put it here; I've taken the liberty of mirroring it here.
I use the built-in AlphaWord application instead of CardTXT, because if all you need is plain-text note-taking, AlphaWord does the job fine. You don't have to install antiquated syncing software on your computer, or fool around with memory cards and weird old-PDA text formats. Just plug the Dana in via USB, from which it can also charge its batteries if it's running from rechargeables. The computer will detect the Dana as a USB keyboard, and then you just poke a button on the Dana screen to get the Dana to "type" the contents of a document into any text-accepting program on the computer. Any computer that can accept a USB keyboard should work with a Dana in this mode.
I thought I could help users of these strange hypertrophied Palm doodads with some more software, though, so I've zipped up the Dana files I have sitting around, too.
Here (5Mb Zip archive) is a collection of third-party software, including the plain (I think) version of CardTXT, which is in the "wp" subdirectory.
The original software package that came with the Dana is about 57Mb, here. It contains a lot of cruft, and I haven't tested all of these programs; if they don't work or they set your Dana on fire, don't complain to me.
Oh, and the Getting Started Guide and User Guide PDFs are only a couple of megabytes, here.