A reader writes:
I came across your F5 speaker article...

...and was very impressed with the information provided.

Is it true that glass fibre batts in speakers can cause mesothelioma? I noticed you linked to the Wikipedia mesothelioma page when discussing polyester and glass fibre batts with the word "carcinogenic".

Bailey
A ported speaker with glass-fibre wadding inside (it's there to dampen internal resonances) will spit little bits of fibreglass out of its ports in normal use. The cancer risk from these is essentially nil, mainly because the amount of glass emitted is very small. But even larger glass-fibre exposures are generally less dangerous than asbestos exposure, and there's some debate about why this is.
Fibreglass and asbestos are mechanically, and somewhat chemically, similar. Glass-fibre, like window glass, is about three-quarters silicon dioxide (quartz), with the rest being additives, chiefly oxides of light metals, to reduce the glass's melting point and improve its strength and/or chemical properties. All forms of asbestos are essentially silicate minerals too, but with different elements mixed in with the silicon and oxygen.
The most common form of asbestos is the white "serpentine" kind, which is magnesium silicate. Blue and brown "amphibole" asbestos are closer to window-glass, being complicated sodium, magnesium and iron silicate minerals.
Asbestos is so particularly nasty (and useful) because its fibres can be very, very fine, routinely below twenty micrometres (or microns) in diameter, and even down to small fractions of a micrometre, versus around 100 micrometres for a human hair. These ultra-fine fibres are too small to even see, and bits of them can float around in the air waiting to be inhaled. This is why they tent whole buildings and put workers in moon-suits to do asbestos abatement; building materials that contain asbestos can be safe to be near, but as soon as you start busting those materials up, they can produce dangerous and invisible dust.
Fibreglass, also known as glass wool, is made in a similar way to fairy floss ("cotton candy", in the USA); extrusion of the molten material through tiny nozzles. The nozzle size determines the thickness of the filaments, so glass fibres can quite easily be made down to single-digit-micron thickness. As is the case for many other "whisker" materials, most of the desirable physical qualities of the fibres increase as the thickness drops. (This is explored in some detail in J.E. Gordon's classic "The New Science of Strong Materials, or Why You Don't Fall through the Floor", a book that I may not have mentioned on this site for as much as eight or nine minutes.)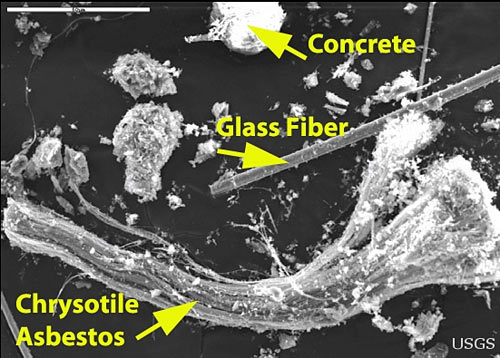 This electron micrograph of dust from the wreckage of the World Trade Center (via the USGS) shows a thin glass fibre and a bundle of much thinner asbestos fibres.
(Nobody performed full asbestos abatement on the WTC towers while they were standing, because it would have been very expensive, the asbestos was largely safely bound up in building materials, and nobody expected the buildings to fall down.)
Glass fibres down in the single-digit-micron diameter range are a cancer risk, like asbestos, but glass fibre in general seems to be rather less carcinogenic than asbestos fibres of similar dimensions. Nobody's exactly sure why. Glass fibres don't seem to get stuck in the lungs like asbestos fibres do; this could be purely because of the size difference, or because they don't have the same rough, almost barbed sides...
...as many asbestos fibres (that's another USGS picture).
Glass is also slightly soluble in water, and - it is theorised - fibres in the lungs can thus be slowly eliminated via blood or sputum. For macroscopic objects the water-solubility of glass is essentially zero; you can run water through a glass tube in a laboratory for years with no visible change, and you don't need to worry about rain wearing through your windows. But the thinner the fibres, the greater will be the surface area of those fibres relative to their volume. So even extremely slight solubility can, the theory goes, get rid of the fibres usefully quickly.
It's important to realise that we're not just talking about cancer, here. Most people with asbestos-related lung disease don't have mesothelioma; they've got "asbestosis", a non-cancerous inflammatory disease which can, nonetheless, very effectively destroy your quality of life and in extreme cases kill you. Again, it's the super-fine fibres of asbestos that make it particularly nasty here, but you can get similar syndromes by inhaling various other particulate substances that get stuck in your lungs, like coal dust, and also little bits of fibreglass.
Realistically, even someone who stuffs fibreglass into speaker boxes for a living, without so much as a face mask, isn't at a huge risk of lung disease - cancer, or "just" an asbestosis-like condition. Usually it's people like surfboard manufacturers or insulation installers who get sick, and then only if they don't use a respirator while they're sanding boards or stuffing insulation batts into unventilated roof or floor cavities.
So if you've got ported speakers with fibreglass in them, don't worry about it. Even if you open the speakers up to replace a blown crossover or something, you're in no real danger. (And if you've got un-ported, sealed "infinite baffle" speakers, there is of course even less risk.)
The loudspeaker industry switched to using cellulose acetate or polyester fluff...
...as the normal low-cost anti-resonance speaker-lagging material...
...some time ago, but I think the change was mainly because these fibres are easier to cut and place, and not a prickly skin irritant, rather than for health reasons.
Incidentally, white asbestos and talc, as in talcum powder and...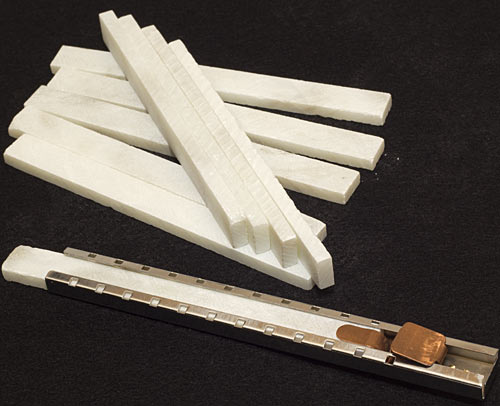 ..."French chalk", are chemically the same, both magnesium silicate. Asbestos can metamorphose into talc, though I'm not sure if talc can go the other way. In any case, industrial-grade talc can be expected to contain some asbestos-like filaments.
This fact caused a certain amount of panic among people who've applied talcum powder liberally to their baby, or discovered that standard children's wax crayons contained a small amount of talc, which in turn did or did not contain - depending on who you asked - a tiny amount of actual identifiable asbestos.
(Some people went so far as to allege that because they're chemically the same, talcum powder is asbestos. By this logic, it should be easy to drive nails with a Brillo pad. But have no fear, highly independent thinkers stand ready to help you remove asbestos from your spine with magnets!)
In response to this, more than a decade ago the big-brand crayon formulations were changed to contain no talc. How crayon-talc was supposed to get into kids' lungs in the first place, I'm not sure. Embedding asbestos in wax strikes me as an excellent way of rendering the stuff harmless, even when kids stick crayons up their noses. Perhaps some asbestos could lodge in the digestive tract if they ate it, but I think the normal regeneration of the gut lining would carry it away. Unless you actually lit a crayon fire, I doubt any significant exposure was even theoretically possible.
The asbestos-in-talcum-powder scare was more rational, because people unquestionably do inhale some talcum powder when they use the product in normal everyday ways. There's a difference between bulk industrial talc and the super-fine stuff used for talcum powder, though. Major talcum-powder companies hotly protested that there was no asbestos in their talc at all.
It's rational to take at least some care to prevent you or your baby from inhaling talcum powder, because, as discussed above, inhaling fine insoluble powders in general is a bad idea. But there doesn't seem to be any serious reason to boycott the product entirely.
(There's also a popular belief that laser-printer or photocopier toner is deadly poisonous if inhaled. Actually, toner is just yet another insoluble fine powder. So, once again, you should avoid inhaling it if you can, and wear an appropriate mask if you have chronic exposure to it. But there's no need to panic if you snort a little of the stuff by accident.)
---
Psycho Science is a regular feature here. Ask me your science questions, and I'll answer them. Probably.
And then commenters will, I hope, correct at least the most obvious flaws in my answer.