A reader writes:
I am a hi-fi person. The kind who likes music to sound as good as possible. I know you are interested in sound too.

I am building the item shown here, which is a Micro ITX system to provide very clean USB signal to a DAC.

It's built around an Intel DN2800MT Marshalltown Mini-ITX motherboard which accepts anything from 8 to 19V DC.

They recommend a battery power source as that clean power helps give better sound. Whether or not you believe in that is another thing. The battery source they suggest is the Red Wine Audio Black Lightning High-Current Battery Power Supply which is $900, costing as much as the entire rest of the system.

I have a problem paying $900 for a battery and charger.

Here's my question. Do you think a standard laptop battery extender (lithium battery plus charger) or similar would work as well? They are a lot cheaper. See for example:

Anker® Astro3 10000mAh Multi-voltage 5V / 9V / 12V 2A External Battery Pack, $US59.99, or HyperJuice 2 External Battery for MacBook/iPad/USB (100Wh), $US299.95. Red Wine Audio specify the battery they use to be "One 12.8V, 10Ah LiFePO4 battery pack". I can get one here with charger for $US159.99. Does that look like a viable solution to you?

I am not an expert in your area so I can't tell whether these provide clean DC power. For example do they use a components that add noise or is it clean DC? I've done a lot of searching and cannot find the answer.

All the best,

Chris
Right off the top: Yes, any other battery with an appropriate voltage and current capacity will work as well as the super-special audiophile one.
Many modern batteries have some circuitry on board to, for instance, cut the battery off before it runs dead flat, or protect against short-circuits. But in normal use, they all deliver DC electricity that's clean as a whistle.
However.
Anybody who seriously claims that running hi-fi gear from a battery instead of wall power will give you...
* Improved dynamics
* Blacker backgrounds
* More natural sounding highs
* Better defined bass
* A larger soundstage
* More holographic imaging
...does not deserve your money, for that battery or for any of their other products.
I would go so far as to say that they do not even deserve the money of Donald Trump, Kim Jong-un, or a professional puppy-drowner.
The Computer Audiophile site is not as badly contaminated with fluffy anti-reason as the real champions of audiophile insanity. But that's only because those champions are so demented that they speak favourably about the audible advantages of $350 wooden volume knobs, small objects made of exotic materials that you're supposed to place in mystically significant locations on and around your hi-fi equipment, $6500 power cords justified via avant-garde atomic physics, and of course plenty of quantum flapdoodle. (That quantum flapdoodle is sometimes quite hotly defended, too!)
The Computer Audiophile forums could be better, too. This wizard manages to list several ways in which uncontrolled observations cause us to see and hear things that aren't there... and then turns around and say that that's why blind tests are useless!
'Cos the reason why people think audio voodoo works, and then don't think it does on the rare occasions when someone takes the trouble to do a blinded test, is because audio placebos don't stop working just because you've discovered that they don't do anything real. And because blinded tests encourage you to give up those placebos that you previously thought made stuff sound better, you'll then be listening to music through less ridiculously expensive gear that doesn't have those wonderful placebos, and this will make you unhappy.
Or something.
Here's another parade of forum-post explanations for why blinded tests tend not to say what audiophiles want them to.
OK, it's not The Computer Audiophile's fault if people say nutty things on the forums.
But the Audiophile himself chimes in further down that first thread, and doesn't really disagree. And he also posted in this thread, to say that in his experience audio bits read from a solid-state drive sound better than the same bits read from a spinning drive.
(See also, the magnificently deranged concept that there is such a thing as an audiophile SATA cable.)
And here a Computer Audiophile blogger explains that the stress of a blinded test "makes it harder to remain objective".
I now choose my words carefully when I say:
For fuck's sake, people.
As I've written before, these attitudes on my part are not just knee-jerk "scientism" that assumes that empirical testing always beats personal experience. A hard-core attitude like this is foolish, when you're talking about unquantifiable things like "how good that painting is" or "how good that music sounds".
My opinion, rather, arises from the large number of tests done in the course of, for instance, developing lossy compression algorithms, investigating the neurology of hearing, and actually testing weird audiophile claims.
Over and over and over it has been shown that the ear is, if anything, even easier to fool than the eye, and that those who claim a special ability to detect differences in stimuli better than mere modern instrumentation and the scientific method can identify, are mistaken.
And it doesn't matter much what those stimuli are. Dowsers, wine experts, "intuitive healers", audiophiles; they're obviously very different in their scope of activity and the likelihood that their activities will cause misery and disaster, but presuming they're sincere, they're all making analogous mistakes for analogous reasons.
This is not a case of different "schools of thought". This is rationality versus irrationality.
Getting back to audio gear that's alleged to sound better when running from a battery than when running from the mains: The makers of this gear may somehow have managed to screw up their power-supply design so badly that the thing really does run better from battery. But that is the only reason why I am not comfortable in betting my life that they are completely wrong.
In this respect, the choice of battery or mains power is rather like the choice between valve or transistor hi-fi amplifiers. A properly-designed transistor amp should be, and as many blinded tests have demonstrated definitely is, audibly indistinguishable from a properly-designed valve amp.
Valve amps sound better when overdriven into distortion, which is why the "valve sound" is such a big deal for guitar, and other musical-instrument, amplifiers.
But a hi-fi amp should not ever be driven that hard.
Show some golden-eared types a badly-designed valve amp that really does sound different from a transistor one (though not necessarily very different from a badly-designed transistor amp...), however, and at least some of them are sure to want to throw money at you.
This sort of thing happens over and over in the audiophile world. Never mind the pure frauds like expensive audiophile cables that turn out to be made from garden hoses and hot glue. Look, for instance, at this highly-regarded little amplifier, which is actually very badly designed, and atrocious in every way.
I suppose some of this stuff may come from people's memories of early versions of new technologies, which often genuinely were inferior to the highly-developed versions of older technologies available at the same time. Early transistor amplifiers could sound quite audibly lousy, for instance, because early transistors were quantifiably unable to amplify audio as cleanly and linearly as vacuum tubes. See also early audio CDs, many of which sounded if not unarguably worse than top-quality vinyl or reel-to-reel tape, then certainly not as good as you'd expect from the slogan of "perfect sound, forever" and the alarming price of a CD player in 1983.
The lousy sound of transistor amps in 1958 and CDs in 1983, though, have nothing to do with how they sound today.
Let me make perfectly clear, however, that I've got no problem at all with the notion that sound quality can be compromised on the digital side of your DAC - particularly when you're using a general-purpose computer as your audio source. There are plenty of possible software and hardware issues that can cause clearly audible problems with the sound.
To give only one example: If you're running an operating system like Windows that has multiple sound sources, not all of them may even show up in the "mixer" control panel. So even if you mute everything but the source you want and set every relevant volume control to maximum (as the Computer Audiophile FAQ sensibly suggests), there may still be obvious scratchy interference noises from sources that for whatever reason refuse to mute, and for whatever reason are very noisy. Like, say, a microphone input with no mic plugged into it.
And then there's the analogue side of the audio chain, which for the vast majority of PCs and Macs today is the audio hardware built into the motherboard. That hardware is almost certainly going to be built down to a price and thus, in the very cheapest versions, may have gross distortion on the level of this stair-step alias-tastic output: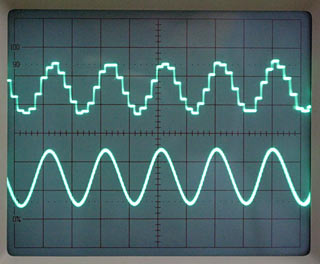 (Picture courtesy of Practical Devices.)
Onboard audio hardware is also often not very well shielded from the numerous high-frequency RF sources with which it shares the inside of the PC.
But if you're using a quality internal sound card or any sort of half-decent outboard USB DAC, and if there's nothing on the software side on the PC polluting the bits the DAC, then the notion that the signal coming out will be in any way detectable in a blinded test different between different computers, let alone between one computer running from the mains and an identical one running from a battery, is demented.
Yes, it is possible for an audio system to sound better from battery power than from mains, but only if it's got a badly-designed power supply. If "dirty power from a computer motherboard can result in very audible noise and decreased sound quality", so you need to run even your add-on USB card from battery, never mind the DAC, then there is something severely wrong with that USB card, to the degree that it just won't work properly. Anything that can corrupt digital audio data - remember, this is before the signal even gets to the DAC - in an audible way will also corrupt every other kind of data, and this effect will be noticeable in things as simple as sustained data transfer rates.
And then the Computer Audiophile dude goes and uses a "PCIe riser cable" so he can cram a USB controller card into his tiny computer case - but such a cable is completely unshielded!!1!one! You're running the card from battery power but transferring all of the data to and from it through an antenna?!
UPDATE: Damn, a perfectly good snark ruined - Chris pointed out to me almost immediately that the Computer Audiophile picked a riser cable that already does have shielding!
(I'm sure that if he ever thinks of this, he'll immediately hear the difference and wrap the riser cable with earthed foil, or something.)
Sometimes you strike something that's beloved by audiophiles, inexpensive and functional, like the Tripath "class T" amplifiers (which are their trademarked version of a Class D amp). Built amps of this type, and modules from which you can build your own, are all over eBay and other online vendors. The specs of the cheapest ones aren't very good, but just stick a valve up though the casing, decorate your description of the hardware with some real scientific terms that don't actually apply, keep a wall of pseudo-postmodernist babble in reserve in case of hard questions, and the audiophile market will be fine with it.
Usually, though, audiophile snake oil is expensive, and all you get for your money is a placebo.
This woolly-headedness is for some reason acceptable for audiophile hardware, but not for other technology.
"Well, this is where the GPS says I am, but I think the satellites it's looking at right now lack a certain positional air and musicality. Look, you can see the fix jittering. Well, I can, at least; perhaps your eyes aren't as good. I'll wait until it gets dark so I can try some other satellites when the intervening molecules are cooler."
"I'm pretty sure I play Counter-Strike better when my chair's facing east."
"Water boiled from English 230-volt mains power makes better tea than water boiled from US 120-volt. Everyone agrees 120-volt at 50Hz is almost as good, though."
"My calculator's more accurate when I press the keys more firmly."
Most people would consider statements like these as possible symptoms of a formal thought disorder.
But believing some talisman improves your car's power and mileage, or that a magnetic or copper bracelet helps with your arthritis, or that one should always visit one's astrologer before investing any money, or that water has memory, or that bits and electrons have special properties depending on where they came from?
That's fine, according to a lot of people.
We've gotten past this crap. We no longer believe you can revive a drowned person by blowing tobacco smoke up their arse, we no longer believe the brain's only purpose is cooling the blood, and most of us no longer believe planets whistle around in ludicrous epicycles in order to place humanity at the centre of the universe. And no matter what certain alternative-medicine practitioners say, bleach is not a fucking cure-all.
For pity's sake, we have actually achieved the transmutation of base metals into gold. (Though not the way the ancient alchemists or their rather peculiar modern heirs wanted to do it, which is probably just as well.)
If I were you, I'd forget about taking advice from people who insist, in the face of a world of astonishing technology, that it's reasonable to spend large amounts of money on devices that only make sense if the science and engineering that led to all that amazing technology is actually invalid. I find it particularly galling to see this counterfactual thinking applied to powering of a computer; the people who designed and built the hardware in there, including literally billions of transistors operating at billions of clock ticks per second, have not found any mystic benefit to powering the thing from batteries instead of wall power. But when it comes to the handful of transistors and thousands of cycles per second of a piddling audio output, suddenly some occult force arises that's not amenable to the science that puts supercomputers in your pocket and robot probes on distant planets.
Happily, getting superb audio quality out of a PC is a completely solved problem, thanks to boring old science and engineering. It's not even expensive.
The process is:
1: Buy an Asus Xonar DG or something for, like, fifty bucks. Or less.
2: Install it in whatever PC you like.
3: Plug in your headphones and/or ordinary inexpensive hi-fi amplifier and decent speakers.
...and that's it.
If you absolutely must spend more money than that, I suggest you buy from an engineering-first, low-bullshit manufacturer like Headroom or Practical Devices. Those people usually have a bit of audiophile tinsel on offer, like expensive capacitor-upgrade kits that don't fare well in blinded tests, but they also have plenty of claptrap-free products.