This is a fan.
I am delighted to say it is every bit as demented as I had hoped it would be when I slapped down $US3.40 at DealExtreme to buy it.
(There's a green one as well, but that costs three dollars and sixty cents. What am I, made out of money?)
It is not a big fan. The diameter of the see-through rubbery blades when they're spinning is about seven centimetres (2.75 inches). The blades fold back at rest, and can thus get in the way of the crank a bit on start-up.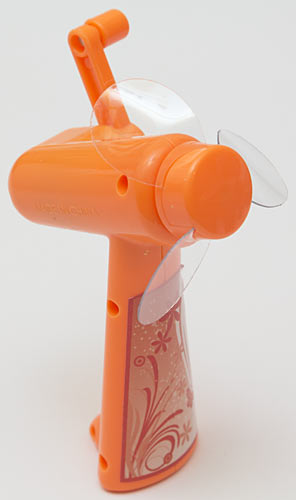 The blades spin fast, though; they're heavily geared-up, and turn something in the order of 110 times per crank of the handle.
I think this fan may actually have a substantial calories-expended-to-air-moved advantage over a simple paper fan. Both cool your face while they warm up your arm muscles, but I think the crank-fan requires less effort.
It also takes up less room, both in your bag and when you're using it.
I wouldn't expect this plasticky little thing to last a whole summer of frequent use, though. But it's probably more durable than similarly tiny fans that run off batteries or USB power; no motor brushes to wear out or solder joints to let go.
I think the principal purpose of this device is to make other people smile when you use it, though, and on that count it seems entirely successful.
And yes, you can turn it to point away from you and crank the handle the other way, and run about pretending you're an aeroplane.
EDIT: I just opened it up.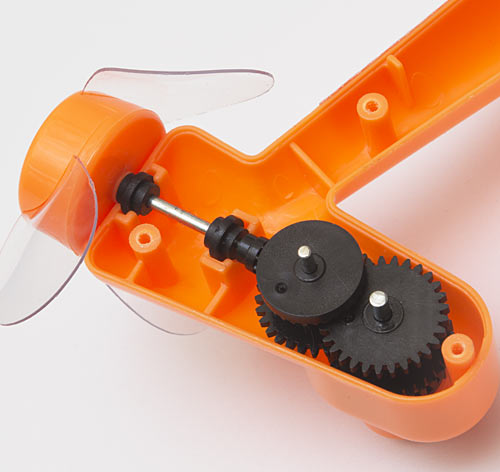 Black plastic gears on metal shafts, and a couple of actual bushings for the output shaft. The bushings are only plastic too, but should wear slower than if there were only holes in the casing plastic for the fan-shaft to go through. This trinket was not just thrown together.
(The gears were dry; I added some fancy plastic-safe oil, and now I think the fan turns more quietly. This may be a complete fantasy.)
Even if it breaks after a month, it's difficult to complain when the thing costs very little, including delivery, for this orange one, and very little plus twenty cents, including delivery, in green.
(DealExtreme have bulk-buy discounts as well; you pay an extra $US1.70 for the whole order to use the "Bulk Rate" feature, then pay less for three or more of any given item in that order. The three-unit prices for these fans are only two cents more than the ten-unit prices.)
Recommended.