Here's yet another Reddit-comment transplant, this time from this thread about scary animals in the USA, in the opinion of...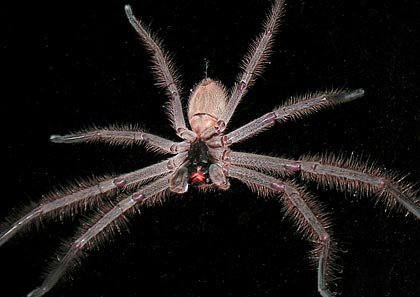 ...Australians.
1: The house centipede. Perfectly harmless, but practically a prototypical creepy-crawly, and very common.
2: The toe biter. Apart from the egg-carrying creepiness, toe-biters have that name for a reason, and their bite may be the most painful of any insect. Won't kill you. May make you kill yourself.
(Most insect-bite-pain-scales, like the not-entirely-serious but well-researched Schmidt one, don't cover large swathes of the arthropods. The Schmidt scale, for instance, only covers the stinging Hymenoptera - wasps, bees and ants.)
I regret I have been unable to locate a YouTube, or even LiveLeak, video of someone deliberately getting bitten by a toe biter. All those marvellous videos of people eating staggeringly hot peppers (or just straight capsaicin), or volunteering to be tased, or shooting each other with fireworks, or engaging in the various other things that only other drunk 20-year-olds used to get to watch... there are even voluntary Irukandji jellyfish stings! But no toe biters.
If you can't find me video of some idiot being turned into a flowing puddle of agony by a toe biter, I of course welcome your suggestions of even more terrifying American fauna and/or flora.