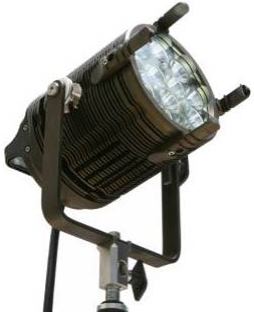 When I read about the 11,000-lumen, 200-watt, two-kilometre-naked-eye-range, waterproof, $US7400 FoxFury Sunbolt 6 Mega Spotlight, I naturally assumed its specs were pretty much 100% claptrap.
It's very hard to make a super-powered LED light. Durable, efficient, bright-for-its-size, not-terribly-expensive; all that, LEDs can do. But they're not quite there for spotlights yet.
It is, however, very easy to throw around some weasel words concerning the capabilities of a non-super-powered LED light, so that's what I assumed FoxFury had done.
But I was wrong. They're actually only fibbing a little bit.
Their first bit of close-to-the-wind sailing is their claim - which I presume came from a press release, since it doesn't seem to be mentioned on the Sunbolt's product page - that the spotlight has the power of "7 car headlamps". 11,000 lumens is indeed about seven times the output of the 1962-vintage basic "H1" halogen headlamp bulb, but many more powerful and more efficient automotive lamps exist today.
The "naked eye distance vision" part is questionable, too. The Sunbolt is claimed to have an eighteen-degree beam, which at the stated maximum throw range of two kilometres will light a circle about 634 metres in diameter, with an area of 315,696 square metres. Distribute 11,000 lumens over that circle and you get 0.035 lumens per square meter, or lux.
The average dark-adapted human naked eye can see - in grainy monochrome - in light levels down to 0.1 lux; 0.035 is just barely possible, but practically speaking it's completely useless for spotlight applications. That's because dust in the beam will glow much brighter than the beam can light such a distant target.
It's possible that the FoxFury beam is sufficiently centre-weighted that there's a smaller spot in the middle that makes it to 0.1 lux at 2km, but it's disingenuous to pretend that this gives it a real, useful, two-kilometre throw. Much better to specify maximum throw as the range at which it averages one lux over its whole beam circle; going by the quoted output and beam-width numbers, that'd be a range of only about 375 metres, if I haven't flubbed my inverse-square-law calculation.
The raw power and output numbers, though, are usually where the claptrap lies in LED-lamp publicity. But getting twelve LEDs to draw (very slightly) less than 200 watts and output 11,000 lumens actually is a plausible specification, today - provided you use multi-die fifteen-watt LEDs. Those are technically each six LEDs in one package, so this is really more of a 72-LED spotlight. But who's counting.
The basic luminous efficacy number - 11,000 lumens from 200 watts gives 55 lumens per watt - is nothing special these days. If the LEDs are reasonably well-cooled then they ought to last a long time, too. They'll slowly lose brightness, which could cause problems for scientific or movie applications, but won't be perceptible to most users for a long time.
So yes, this really is a pretty serious spotlight. Don't expect it to actually create a circle of daylight at two kilometres, but the rest of the specs seem pretty much kosher to me.