Mickey the cat - the subject of the famous kitten review - is dead. He was about five and a half.
I found him like this. He looks as if he's just asleep - only the little bit of purple tongue sticking out gives it away.
He was stone cold and stiff as a board, though. So I dug a hole in the garden and put him in it. Then we sprinkled some flower seeds on top and watered them in.
This isn't the way it's meant to happen. Mickey was a big strong healthy boy. Really big; he was quite lean, but very long and tall, for a cat. He weighed seven and a half kilos just a couple of weeks ago.
Perhaps that was it; perhaps he didn't have a strong enough heart for a body that size. I'm at a loss as to what else it could have been. Cats that know they're sick hide themselves away somewhere, but Mickey just curled up on the spare bed as normal. And there was no vomit, no signs of distress; I don't think he'd even been off his food, though I might not have noticed.
Perhaps the last time he went out, for only about ten minutes before he decided it was too cold and came back in, he ate a poisonous mushroom along with some grass. Those are famous for killing people half a day after they eat them. Or perhaps he picked up a tick, though it's freezing cold here in Katoomba right now, so there shouldn't be any ticks around. I don't think it was rat poison or slug bait or something like that. But who knows.
When you own a pet, you expect - or should expect - that at some point you'll have to pay quite a lot of money to buy that pet several, or at least a few, more years of happy life. Look at Tom, with his arthritis and diabetes and a bout of hyperthyrodism, too. It cost a bloody fortune to get him repaired, and he still needs injecting twice a day. But Tom's happy as a clam, settling peacefully into the prolonged geriatric period that's normal for elderly housecats.
Mickey, on the other hand, was the picture of health, as far as I could see. But he was there last night, and gone this morning.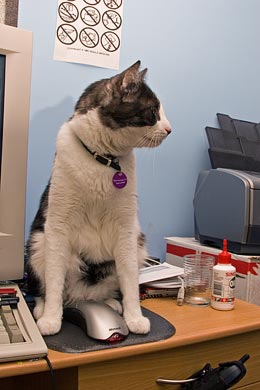 He was a very good boy.
---
A couple of irretrievably soft-hearted readers have asked if there's any particular animal charity to which I'd like donations to be made in memory of Mickey.
Mickey came from one of the Cat Protection Society "aquariums" full of kittens that you can see in the window in some Australian vets.
(Yes, they do let the kittens out regularly to run about. But it's amazing how many of them will be perfectly happy in a thousand-litre Perspex box for hours on end - though at least one bright spark does always seem to end up sleeping in the litter tray.)
The Cat Protection Society would, of course, be very pleased to receive your tax-deductible donation or volunteer time. And then there's the RSPCA in Australia, the UK and elsewhere in the Commonwealth, and their equivalents the ASPCA in the States.
These sorts of organisations always run shops. The "op shop" type with low-priced used stuff can be fun but, given the prices, can't actually add much money to the bottom line of the charity. I highly recommend you patronise the other kind of shop, like the RSPCA Shops here in Australia. Those shops sell the usual sorts of "pet shop" animal supplies - toys, food, tennis ball chuckers, noisome dried pieces of pig or bull (not, for very good reason, cow...) of which dogs cannot get enough - at the usual rip-off pet-shop prices. You can get all of these things much cheaper if you shop more carefully - but the profit from the charity-shop rip-off pricing all goes to the charity, so when I'm there, I specifically seek out products which seem to be the worst value.
If you can't afford to donate, buy overpriced catnip mousies or spend a lot of time having your heart rended by the predicament of abandoned animals, but you live near an animal shelter or veterinarian that has a Room Full O' Kittens, be advised that they may be very happy to have you just visit and play with the kittens for an hour, provided you don't seem too likely to eat any of them.
Kittens need to get used to being picked up and patted and played with, and veterinary and animal-shelter staff are likely to be pretty busy. So the terrible responsibility of being covered with kittens for an hour a week may, I fear, fall to you.