A reader writes:
I wanted to thank you for linking to "The Magician" in one of your (fairly) recent blog posts. <oz>Bloody brilliant film, mate!</oz>

Can you recommend any other outstanding films from your sector of the hemisphere?

John
The Magician, for the benefit of other readers, is a low-budget mock-documentary about an Australian hit man, who's played by the actual filmmaker. Like many other Australian crime films, it is hilarious and unsettling, often simultaneously.
And yes, I do have a few suggestions, particularly in this genre.
To get the better-known ones out of the way first, there's Chopper, of course, and Two Hands. Then Dirty Deeds, with numerous Australians trapped in John Goodman's gravity well, and Gettin' Square, which is heavier on the comedy and lighter on the crime.
If you're looking for something similarly Aussie and gritty but less... cheerful... there's early Russell Crowe flick Romper Stomper, the significantly more miserable Metal Skin, and the bleaker still Ghosts... of the Civil Dead.
I also have to digress and give the short Zombie Movie a plug, because there ain't no zombie like a New Zealand zombie, and that movie can be had for free on Steam. And while we're talking antipodean zombies, Undead adds something quite unexpected to the genre.
And now, some Amazon affiliate links for the above flicks. Several of them are now discontinued, but new and used DVDs are still on offer:
Chopper
Two Hands
Dirty Deeds
Gettin' Square
Romper Stomper (fancy 2-disc version)
Metal Skin
Ghosts... of the Civil Dead
Undead
(Whipping through the IMDb "recommendations" for the above titles also reminded me of The Limey, in which various Americans discover that being on the enemies list of both General Zod from Superman II and Bernadette from Priscilla is very, very bad. The Limey is nice and cheap on Amazon.)
The Magician itself is a bit hard to find in the States. You might very well be able to find it in some wretched hive of scum and villainy; I couldn't possibly comment. If you want it legally, though, it's elusive.
Once you filter out the incorrect hits ("...not Simon The Magician, not either Mandrake The Magician, not The Magician from 1993 with Clive Owen in it, not Melies' 1898 Le magicien, not the one from 1926, not the 1973 Bill Bixby movie or TV series..."), there aren't a lot of hits left. The Magician's very recognisable DVD cover helps a bit, though: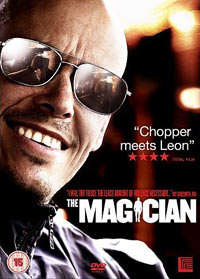 Here The Magician is on Amazon UK, here it is at a random Australian online DVD shop, and there are a couple on eBay at the moment too. But they're in the UK, and shippable to Australia and of course also to the UK but, as I write this, not to the USA.
I invite other suggestions, particularly of low-budget quirky crime films from lesser-seen countries. Feel free to widen the net enough to include, for instance, A Dog's Breakfast, which some of us laugh at in unexpected places.