Why, readers? Why do you do this to me?
Whenever some new stupid fuel-saving thing comes along, you all insist on e-mailing me about it, as if you think I enjoy this stuff or something.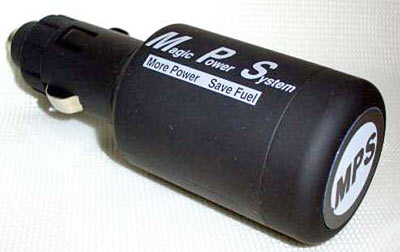 One of the people who told me about this "Magic Power System Power Shift Bar" mentioned that it could be an automotive example of Poe's Law, which states that no matter how outrageous your parody of religious fundamentalism, someone will still mistake it for the real thing.
As Jalopnik said, this sold-on-eBay device does indeed have the sort of feature list that suggests that someone made it up on a dare:
This compact Power Shift Bar is an Intelligent Electric Tune-up Device, which will dramatically improve the power & reduce fuel consumption of your car. Just plug it into the lighter socket of your car and drive. It is used for any vehicles operated on 12V batteries.
- enhance fuel efficiency - saves gasoline (10-30%)
- increase engine torque - increase power (2-5ps)
- reduce car emissions - contribute to the environment unconsciously
- improve car audio sounds
- the small device cleans the entire car electrically including its body
Yep, that's right - this 35-quid gadget is supposed to clean your car, as well as give you more power from less fuel. I presume the next version will wax your car as well.
All this from a device which, I remind you, just plugs into the cigarette-lighter socket!
The eBay seller has a tidal wave of other car-tat on offer, but the rest of it isn't woo-woo - it's things like keychains, extra-wide rear-vision mirrors and tissue boxes with manufacturers' logos on them. I had to add a lot of minuses to my search to find just the Power Bars, but they do seem to be the only really nutty thing on offer there.
I also, however, found the Power Bar on sale here, along with a selection of other extremely plausible devices.
Things to swirl up your air flow. A carbon-fibre elbow for your air intake called a "ZERO 1000 POWER CHAMBER", which appears to be another swirly thing, though other sellers don't give any clue about this $250-plus device's alleged means of operation. (Zero 1000 apparently also sell a magnetic fuel-line thingy.)
Oh, and there's also something called the "AIR CHARGER Pro", which has a dial on it and apparently uses "NANO TECHNOLOGY" and is "MULTI ADJUSTABLE". I think it's one of those electric supercharger doodads, but it's kind of hard to tell.
(Real experts, of course, also use a Fuel Charger Pro, as endorsed by Some Dude On Geocities. Not to be confused with the mere Fuel Charger, which is of course a "solid state electrostatic fuel ionizer" which "was designed according to physics research conducted by Cal Tech for NASA's Jet Propulsion Labs". I think that one's meant to be an atomisation enhancer.)